How We Hire
A different way to make a difference.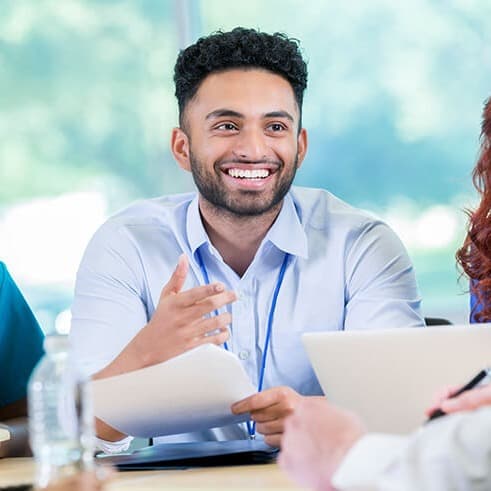 From recruiting to interviewing to hiring, we want to make sure that Presbyterian is the right fit for both you and us.
Our hiring process typically begins with the online application, a phone screening, and a panel interview, but can sometimes differ from position to position.
Interview Process
Most of our interviews are with a panel of your peers and are conducted through a series of behavioral questions. These questions look for you to provide an example of your experience and knowledge, and tell us a story of how you carried out a task or solved a problem. This type of interview is conversational and helps us get to know you better.
You of course will also have the opportunity to ask questions of us and of the role you are applying for. 
Orientation and Onboarding
When you are hired at Presbyterian, you will attend a pre-screening at our employee health facility and then depending on your role, attend an orientation in Albuquerque called Brilliance in the Basics. Healthcare providers and advance practice clinicians will also attend a separate new provider orientation. We also use the StandOut Platform to help teams engage with each other on a more personalized level. StandOut is a strength-based approach to activating individualized talent - helping team leaders and team members turn their talents into outstanding performance.
Frequently Asked Questions
We know that applying for a job can sometimes leave you not knowing what the next steps are. Please review some of the most frequently asked questions for answers to your questions.
Application Process FAQs
Where and how do I apply?
All applications are online You can search positions by keywords or scroll through the postings. Once you have identified a position you are qualified for and interests you, create a profile and complete the application.
Can I apply for multiple positions?
How does the recruitment process work?
Application Status FAQs
How can I follow up on my application?
How will I know if I have been selected for an interview?
How long will my application be active?
How do I know what my application status means?
Hiring and Interviewing During COVID-19
Are you still hiring during the COVID-19 pandemic?
Are you still interviewing?
Can I still do a job shadow?
If I have an application in the system, am I still being considered?
If I am hired, could I have a delayed start date?
Are your teams working remotely? Would I work remotely if I started right now?
Are new employee orientations available during COVID-19?
Are COVID-19 vaccinations required for employment at Presbyterian?