Our History
​In the early 1960s, Albuquerque was developing quickly and Presbyterian Hospital continued to expand to provide care for the growing population.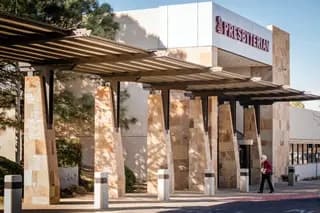 In 1968, the Presbyterian Board of Directors agreed to build a satellite hospital in the northeast heights to serve the growing community. The board purchased vacant land on Wyoming and Constitution to build the hospital. A wealthy Albuquerque resident named Anna Kaseman left a substantial portion of her estate to Presbyterian when she died and her donation was put toward building the new $3 million hospital.
Anna Kaseman Hospital opened its doors in 1970. The hospital was unique, with views of nature from every patient room, and provided all services on one level — no elevators! Anna Kaseman Hospital provided a wide range of healthcare services for patients of all ages, closer to home for people living on the east side of Albuquerque. Maternity care, surgical services, intensive care, and emergency care were a few of the original services.
By the mid-1990s, Anna Kaseman Hospital was known for providing outpatient specialty care services to the community. Some of the expanded services included rheumatology, medical oncology, and cardiology.
Today, Presbyterian Kaseman Hospital provides a wide range of inpatient and outpatient care services, including rehabilitation services, behavioral healthcare, hospice and home healthcare services, emergency medical care, radiology, cancer care, surgical care, and a variety of other support services.