At-Home Sleep Study Patient Resources
Quick Guide to Getting Started with your Philips Respironics® Home Monitor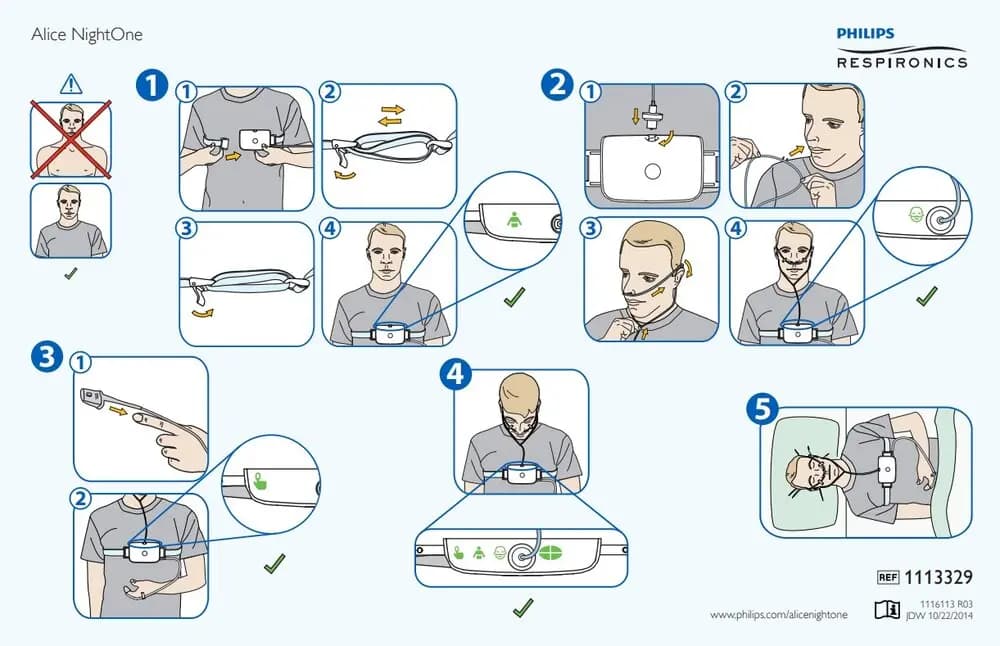 FAQs For a Successful At-Home Sleep Test
Do I need to do anything before I get into bed?
You should plan to follow your normal bedtime routine but put all equipment on about 30 minutes before you normally get into bed. Otherwise, do not change any of your usual routine or habits. This will help get the best results from the testing.
How do I set up the equipment and put it on correctly?
You can use the pictures above to show you how to place the different pieces of equipment, but you will start by putting the finger probe (the oximeter) on your non-dominant hand. For example, if you are right-handed, put the probe on your left-hand index finger. (Note: See below for download links for more detailed information if you need it.)
Next, screw the nasal cannula (the tubing) clockwise onto the silver post on top of the testing unit. If the green plus (+) sign stays on, it means the blue belt on the unit is not attached correctly. You will need to unplug the unit, then remove the belt and reconnect the belt to reset the unit.
Be careful not to press the button on the front of the device unless you are ready to end the study. It is also the OFF button and turn the unit off.
Be sure to wear the device for at least 6 hours for each night you want to record information about your sleep.
Video Instructions For Use of the Philips Respironics Home Monitor