Cancer Care
Presbyterian Cancer Care is focused on providing compassionate, patient-centered cancer care. Our Cancer Care team can provide a wide range of services for our cancer patients, providing both diagnostic testing and treatments, but also support services such as nutrition, physical therapy and rehabilitation, clinical trials, and counseling.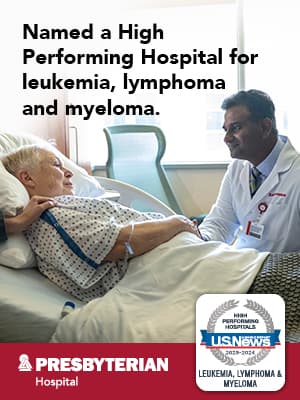 We offer a wide variety of clinical services, including medical oncology, radiation oncology, as well as surgical oncology. We also offer an extensive choice of breast disease diagnostic testing and treatment options at our Breast Care location, conveniently under one roof at Rust Medical Center. Our team also works closely with members of the cardiothoracic surgery team to provide minimally invasive, robotic-controlled lung and esophageal surgeries for patients with certain diagnoses, allowing for faster healing times after surgery. To help you coordinate all aspects of your care, our team of nurse navigators are available to mentor you at the time of your initial diagnosis through treatment and beyond.
For more information about our nurse navigators, as well as for questions about Presbyterian Cancer Care, please contact us.
To find out more about all of our Cancer Care services, including diagnosis, treatment options and supportive care, please view our cancer services booklet that shares further information about our Cancer Care specialists and team members who may provide care for you throughout your cancer journey.
Services / Programs
Breast Surgical Oncology Gynecologic Oncology Hematology/Oncology Radiation Oncology Surgical Oncology
---
Presbyterian Cancer Care Accreditations
Presbyterian Cancer Care has earned the ACR-ASTRO seal of accreditation which represents the highest level of quality and patient safety. Our patient-centered approach to cancer care has also earned us accreditation from the American College of Surgeons Commission on Cancer, the American College of Radiation/Radiation Oncology for Presbyterian Radiation Oncology, the National Accreditation Program for Breast Centers for Presbyterian Breast Care, and the Quality Oncology Practice Initiative for Presbyterian Medical Oncology.