Pediatric Hematology / Oncology
Pediatric hematologists/oncologists focus on the treatment of infants, children, adolescents, and young adults with a wide range of congenital and acquired blood disorders, immune deficiencies and cancers. Members of our team include our dedicated physicians, as well as advance practice clinicians, and pediatric-certified nurses. We work closely with social workers, our Child Life program, nutrition and other subspecialties to help serve children and young adults in New Mexico.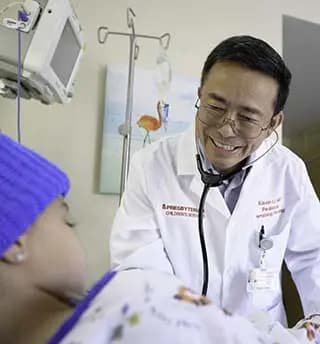 We have a dedicated inpatient unit at Presbyterian Hospital for children who are hospitalized for pediatric hematology/oncology care. Additionally, we work closely with the Ronald McDonald House to provide family rooms where family members who have a child on the pediatric hematology/oncology unit or our other pediatric-specialized inpatient units can have a quiet place to rest and recharge, right at the hospital, so they can remain close to their child.
Our team are also proud to be members of the Children's Oncology Group (COG). This group is dedicated to improving the outcome of all children with cancer. They have partnered with researchers around the world to develop new therapeutic treatments for children and teens with cancer, and are a leader in clinical research trials for pediatric patients.
Presbyterian Children's Care offers an innovative childhood cancer survivor program. It is open to cancer survivors who have been treated by a pediatric oncologist or who have been on pediatric oncology protocols. Our program allows us to continue to monitor our survivors after their initial treatments are completed. Staying in touch with our patients helps manage any long-term side effects of treatment, as well as maintaining a screening schedule for relapse or secondary cancers. While cancer treatments can cause long-term side effects for many patients, the goal of the program is to allow us to follow our survivors as they move through childhood and their teenage years, and watch them grow and develop into amazing and thriving adults.
Conditions Treated
Some of the diagnoses we treat include (but are not limited to):
Bleeding and blood clotting disorders, such as hemophilia or sickle cell disease

Cancers, including leukemias, lymphomas, brain tumors, bone tumors, as well as other malignancies

Immune deficiencies
Treatments & Tests
Some of the services we provide include (but are not limited to):
Chronic transfusions

Dedicated outpatient infusion services

Immunotherapy (treatments that use a patient's own immune system to help fight cancer)

Pheresis (a treatment to filter out certain components of the patient's blood)

Therapeutic and diagnostic procedures, including spinal taps, bone marrow aspirations and lumbar punctures
Our Providers
Presbyterian's pediatric hematology/oncology specialists work closely with other members of our Children's Care team to provide care for infants and children with blood disorders, immune deficiencies and cancers. Our multidisciplinary team includes physicians, pediatric nurses and advance practice clinicians, as well as nutritionists and social workers. This team can also provide extra support for your child's health needs, including behavioral health services.
PMG Provider Directory
CLINICS & FACILITIES
Pediatric Hematology / Oncology in Albuquerque at Presbyterian Hospital
Related Services / Programs
Pediatrics Primary Care Pediatric Chronic Care Clinic Pediatric Inpatient Services