Pediatric Pulmonology
Pediatric pulmonologists are specially trained to diagnose, treat and manage children who have breathing and lung diseases. These doctors work with a team of pulmonary nurses and respiratory therapists. This specialty group focuses on a wide variety of breathing-related problems, and can work with all the members of your child's healthcare team to develop a diagnosis and treatment plan.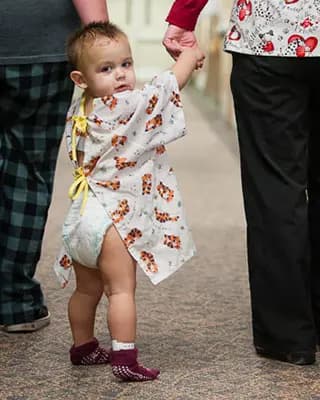 Conditions Treated
A few common conditions treated include:
Asthma

Apnea

Breathing issues

Chronic cough

Cystic fibrosis

Difficulty breathing

Lung disorders

Chronic lung disease in premature infants

Noisy or loud breathing

Recurring pneumonia (infection of the lungs)
Treatments & Tests
A few common tests and treatments include:
Arterial blood gas tests

Bronchoscopy

Lung volume tests

Pulmonary function tests (PFTs)

Pulse oximetry

Spirometry
Our Providers
Presbyterian's pediatric pulmonology specialists focus on the diagnosis and treatment of various breathing and lung-related issues, including asthma, chronic cough, snoring and other pulmonary issues in infants, children, adolescents and young adults. This team can also provide extra support for your child's health needs, including behavioral health services.
PMG Provider Directory
CLINICS & FACILITIES
Pediatric Pulmonology in Albuquerque at Presbyterian Hospital
Related Services / Programs
Pediatrics Primary Care Pediatric Chronic Care Clinic Pediatric Inpatient Services