Volunteer Opportunities
Now Accepting Volunteer Applications
We are happy to start welcoming new volunteers to Presbyterian Healthcare Services!
We have volunteer positions at many sites throughout Albuquerque, Rio Rancho and Santa Fe and we offer an array of volunteer opportunities designed to help you find a rewarding and fun way to spend your time.
Vaccination Requirement
All Presbyterian employees, clinicians, members of the medical staff, contractors and volunteers are required to get vaccinated.
PHS Vaccination Requirement for Volunteers
---
Our goal in Volunteer Services is to match your interests and talents with a volunteer opportunity. Due to the current COVID situation, we have limited open volunteer areas.
Opportunities are available in:
Hospice

Information Desk

Adult Patient Care

Gift Shops

Order Flowers for Patients

Patient Transport/Ambassadors

Sewing Groups

Emergency Room

And much, much more.
Volunteer Types
Adult volunteers must be at least 18 years old and Youth volunteers are 16 – 17 years old. Volunteers serve in nearly every department of the hospital, and provide a weekly commitment of 4 hours per week and an overall minimum commitment of nine months.
Rewards of Volunteering
People volunteer at Presbyterian for a variety of reasons. Many are retirees who want to do something stimulating and worthwhile. Others still work, but they like to volunteer a few hours in the evening or on weekends. Student volunteers use their volunteer experience to explore healthcare careers and complete school community service requirements.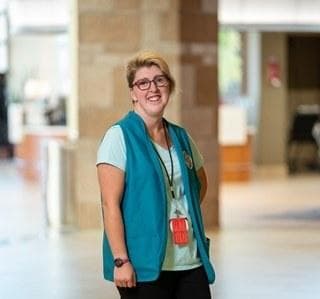 Other benefits of volunteering with us include:
Free flu shots

Gift Shop discounts

Free membership at the Presbyterian Healthplex (minimum hours required)

Annual Appreciation & Awards Luncheon

Employee Assistance Program (available to the volunteer only, minimum hours required)
---
Volunteer Resources