Golden Stethoscope Award for Extraordinary Providers
Have you received exceptional patient care from one of our Presbyterian providers? Nominating them for a Golden Stethoscope Award is a wonderful way to say thank you. The award, which is presented four times a year, recognizes an outstanding Presbyterian Healthcare Services' provider (doctors, surgeons, physicians assistants, nurse practitioners, and nurse anesthetists) who demonstrates excellence in patient care, customer service, communication and teamwork.
Nomination deadlines are March 31, June 30, September 30 and December 31. (Presentations will be held in the following quarter.) To nominate a deserving provider, please complete and online nomination form.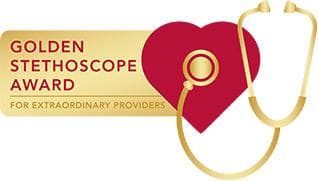 Nominate A Provider
What is the Golden Stethoscope Award?