Community Health Resources and Programs
To support the communities served by Presbyterian, we have resources, classes, and events available that connect adults and children to services that can benefit their health and wellbeing.
---
Healthy Living Classes and Events
There are new and exciting opportunities for adults and kids to learn and take steps to feel better and achieve wellness, including cooking classes, fitness classes, gardening, and more.
Check out our growing selection of classes
---
Healthcare Resources
LGBTQ Resources
Presbyterian is dedicated to providing inclusive and compassionate care for all New Mexicans and have compiled a community-based resource guide for patients and members in central New Mexico.
---
Why We Ask
To Care for You, We Need to Know You
At Presbyterian, we care about you, your health and your well-being. Because we promise to know you and want to care for you better, we will ask for detailed information about your race, ethnic background, preferred language, gender identity and sexual orientation.
Learn more about the questions we may ask during a visit or in MyChart
---
Self-Care and Caregiving Resources
Chronic Disease Self-Management Programs – Paths to Health NM
Paths to Health NM programs are for adults of all ages with health conditions like diabetes, arthritis, cancer, asthma, heart disease, pain, depression and high blood pressure. These programs are especially helpful for adults with one or more chronic health conditions. The family, friends, and caregivers of those who attend any Paths to Health NM program are welcome and encouraged to participate too. All Paths to Health NM programs are available in both English and Spanish.
---
Active Living Resources
Prescription Trails
The Prescription Trails program, supported in part by Presbyterian, is designed to increase walking and wheelchair rolling on suggested routes and promotes healthy lifestyles for families.
A Prescription Trails walking guide is available for healthcare professionals and their patients. This walking guide lists parks and open trails by ZIP codes or city neighborhoods, making it easier to see what options exist for walking in different areas of their city.
Wellness Referral Center
The Healthy Here Wellness Referral Center (WRC) was created and is primarily funded by Presbyterian Community Health and is managed by Adelante Development Center. It was developed in response to feedback from providers that it was difficult to find and maintain free, updated resources to support recommended lifestyle changes to prevent and manage chronic diseases for their patients. The WRC is responsible for connecting patients to classes and programs related to healthy eating, active living, chronic disease self-management, and more. Healthcare providers submit referrals for patients to the WRC and then the WRC contacts each referred patient to explain the resources available, registering them in programs at a time, location and in a language that is most appropriate for their needs. The WRC makes reminder calls and completes follow-up evaluations to learn about patient satisfaction, any barriers to participating, and to sign up the patient for additional classes and programs, if desired. Patients also receive rewards for participating.
Learn more about the WRC:
---
Substance Use Resources
Unused Prescription Drop-off Boxes
You can now drop leftover, unused, or out-of-date prescriptions and over-the-counter medications at a Presbyterian location near you – just look for the big green box, or ask a volunteer for help.
Secure drop-off boxes are now available at these hospital locations:
Dr. Dan C. Trigg Memorial Hospital – Tucumcari

Lincoln County Medical Center – Ruidoso

Plains Regional Medical Center – Clovis

Presbyterian Española Hospital – Española

Presbyterian Kaseman Hospital – Albuquerque

Presbyterian Hospital – Albuquerque

Presbyterian Rust Medical Center – Rio Rancho

Presbyterian Santa Fe Medical Center – Santa Fe

Socorro General Hospital – Socorro
Educational Resources
VIDEOS: Reducing High-Risk Polysubstance Use | Presbyterian Community Health Partners with A Dose of Reality
Community and Clinical Linkages
The Community and Clinical Linkages program connects patients with a community health worker or peer support specialist while they are in the hospital or at a healthcare clinic. During these connections, a community health worker will talk with a patient and offer key resources they might need to help them in their everyday lives. Resources they can help with are finding access to healthy food, transportation to work or doctor appointments, affordable housing, utilities, personal safety and more.
A peer support specialist is an individual with lived experiences, which means that at one time or another they have been diagnosed with a substance use and or mental health disorder. Their role at Presbyterian is to listen without judgment and to respect the person that you are. Peer specialists can be role models, coaches, guides or teachers, and even mentors.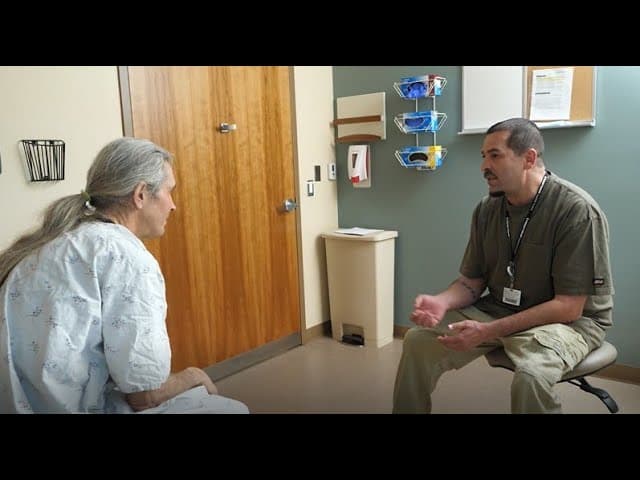 Contact a Community Health Worker at communityhealthteam@phs.org.