Heart and Vascular Care
Presbyterian Heart and Vascular Care is a nationally recognized team of specialists who focus on the diagnosis, management and treatment of diseases that affect the heart and circulatory system. This includes cardiology, interventional cardiology, cardiothoracic surgery, vascular surgery, and pediatric/ congenital cardiology.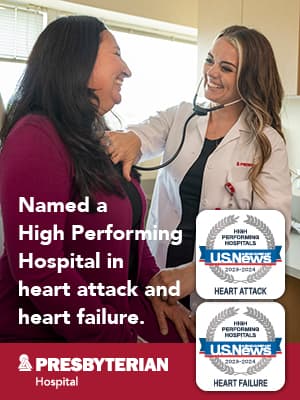 Our Heart and Vascular Care team provides a wide range of advanced diagnostic and treatment services. These include diagnostic testing and imaging, medication therapy, surgical and interventional procedures, ongoing monitoring, and cardiac rehabilitation. Our team can treat sudden or ongoing heart-related problems in both adult and pediatric patients. We offer multiple locations throughout New Mexico to provide convenient access to our providers. As a patient, you have access to advanced imaging and therapeutic technology, prevention and wellness classes, a cardiac rehabilitation gym, and specially trained physicians, nurses and support staff to care for you.
What are signs of a heart attack?
While chest pain that is new and comes on quickly may be the sign of a heart attack, there are other possible signs you should look for. Some of these might include:
Tightness in your chest

Shortness of breath

Pain or a squeezing feeling in your left chest or left arm, or pain that goes up into your jaw

Having sudden nausea or vomiting

Lightheadedness or dizziness
If you think you or someone else is having a heart attack, CALL 911 IMMEDIATELY. Do NOT drive yourself to the hospital. Wait for paramedics to arrive and help you.
Services / Programs
Cardiology Cardiothoracic Surgery Interventional Cardiology & Electrophysiology Pediatric & Adult Congenital Cardiology Vascular Medicine & Surgery Cardiac Rehabilitation