Vascular Medicine & Surgery
Presbyterian Heart and Vascular Care's vascular surgeons offer a full range of diagnostic and treatment options for diseases of the circulatory system, including the arteries, veins and lymphatics. Our vascular surgeons perform a wide range of open and endovascular procedures. They care for patients with common vascular diseases as well as complex illnesses and rare vascular problems.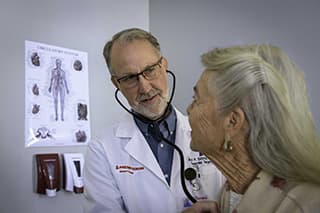 Conditions Treated
Aneurysms

All levels of peripheral vascular disease (PVD)

Aortic, iliac, visceral and popliteal atherosclerosis (hardening and narrowing of the arteries)

Cerebrovascular disease/ carotid occlusive disease

Peripheral artery disease

Venous disease
Testing & Treatment Options
Arterial and venous duplex ultrasound

Open surgical repair and reconstruction of vascular disease

Medical management of vascular disease

TransCarotid artery revascularization (TCAR)

Fenestrated stent grafts

Magnetic resonance imaging (MRI)

Magnetic resonance angiograms (MRA)

Computed tomography (CT) scan

CT angiogram (CTA)

Percutaneous intervention, head to toe

Peripheral vascular surgery
Our Providers
Presbyterian Heart and Vascular Care's vascular surgeons are part of our cardiology (or heart doctor) team. Vascular specialists can screen, diagnose, prevent, and treat diseases of the arteries, veins, and lymph vessels, which make up the entire vascular system. They then provide the optimal treatment for your condition, whether that be medical management, endovascular intervention, or open surgical repair/ reconstruction.
PMG Provider Directory
CLINICS & FACILITIES
Vascular Medicine & Surgery in Albuquerque at Presbyterian Hospital
Services / Programs
Cardiology Cardiothoracic Surgery Pediatric & Adult Congenital Heart Surgery Interventional Cardiology & Electrophysiology