Surgery Services
Surgery Services provides a wide variety of procedures for all patient ages, from infant through adults. Our surgeons and surgical team members can perform general surgeries to more specialized procedures such as endocrine, gynecologic, and orthopedic surgeries, as well as surgical oncology.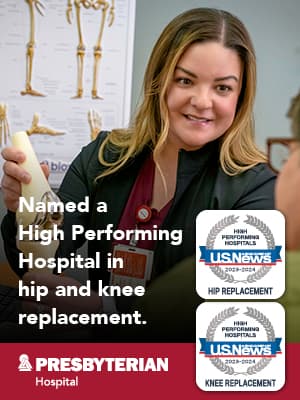 What is the difference between surgery and a procedure?
In general, surgery refers to a procedure that involves an incision or cutting into the skin to repair, remove or replace something. Surgery usually focuses on preventing or curing a specific disease or diagnosis. A procedure is a broader term that includes surgeries, but can also refer to less invasive techniques to help diagnose a disease. Some types of procedures include endoscopies or infusions.
What is robotic surgery and does Presbyterian offer this?
Robotic surgery is a type of surgery that allows the surgeon to make small incisions and use very small surgical tools to perform your surgery. Our surgeons use the da Vinci robotic system, which includes three robotic arms and a 3D magnifying camera. By using this minimally invasive technique, you will have less scarring and faster recovery times when compared to more traditional surgery. Not every type of surgery can be done with the robotic system, so be sure to discuss your surgical options with your healthcare provider.
Learn more about the da Vinci surgical system
Services / Programs
Bariatric Surgery Breast Surgical Oncology Colon & Rectal Surgery Endocrine Surgery General Surgery Gynecologic Oncology Neurosurgery Oral & Maxillofacial Surgery Orthopedics & Orthopedic Surgery Podiatry Surgical Oncology