Pediatric Surgery
Presbyterian Children's Care offers surgical care from fellowship-trained pediatric surgeons, who specialize in the diagnosis and treatment of a variety of conditions affecting infants, children, adolescents, and young adults. These can be elective or urgent surgical issues, including congenital cardiology needs. Pediatric surgeons work with a specially-trained team of operating room nurses, anesthesiologists, neonatologists, pediatric intensivists, pediatric hematologists/oncologists, pediatric cardiothoracic surgeons, and many other respected pediatric specialists.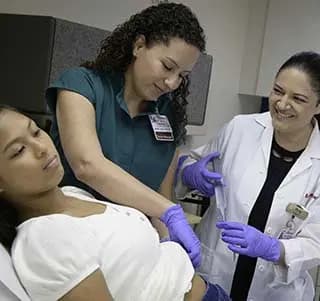 Conditions Treated
A few common conditions treated include:
Abdominal surgery

Congenital issues

Chest wall deformity, including sunken or raised chests

Chest and lung issues

Digestive tract conditions, such as chronic reflux

Cysts, masses, or tumors

Gallbladder, liver and spleen conditions, including biliary dyskinesia

Hematology/oncology conditions

Hernias

Hydroceles

Undescended testes

Thyroid and parathyroid conditions
Testing & Treatment Options
A few common tests and treatments include:
Biopsies

Endoscopic procedures

Feeding tubes or IV placement

Hernia repair

Hydrocele and varicocele repair

Surgical care of birth defects

Surgical care of tumors

Undescended testes repair

Thyroidectomies

Minimally-invasive neonatal surgery
Our Providers
Our pediatric surgeons can provide team-based, specialized care and treatment plans to help pediatric patients with a variety of surgical needs. Our specialists can work closely with your children's primary care provider and coordinate care in both inpatient and outpatient settings. This team can also provide extra support for your child's health needs, including behavioral health services.
PMG Provider Directory
CLINICS & FACILITIES
Pediatric Surgery in Albuquerque at Presbyterian Hospital
Related Services / Programs
Pediatrics Primary Care Pediatric & Adult Congenital Cardiology Pediatric Inpatient Services