Pediatric Urgent Care
Our doctors and nurses are trained in pediatric medicine to provide care to your sick or injured little one. We provide care for non-emergency conditions, including coughs, fevers, minor cuts and injuries, minor breathing problems, stomach aches and ear aches, and sudden or urgent illnesses.
We are not currently accepting appointments for COVID-19 testing for asymptomatic patients. Visit our COVID-19 Resource Center for more information about testing locations.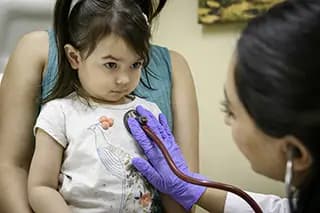 Urgent Care Walk-In and Scheduled Appointments
Our urgent care clinics offer same-day scheduled appointments and walk-in care with Presbyterian Medical Group providers. Walk-ins are accepted when we have availability. We recommend that you schedule your visit so you are confirmed to be seen.
Schedule an In-Person Appointment Online Now
If you choose to walk in, please call the clinic first to understand the current wait time and if there is availability. We recommend that walk-in patients visit as early in the day as possible and at least one hour before closing.
Urgent Care Video Appointments
We provide on-demand and scheduled urgent care video appointments with a Presbyterian Medical Group care team. You must have a MyChart account to use this video care option. If you do not have a MyChart account, you will be prompted to create one. Patients under 18 years of age must have a parent or legal guardian present.
Hours are Monday - Friday, 7:00 am - 6:00 pm, excluding holidays.
Learn More About Video Appointments
CLINICS & FACILITIES