Pediatric Neurology
Neurology is a medical specialty that focuses on the diagnosis and treatment of disorders in the brain and nervous system. Some of the conditions our neurologists see pediatric patients for include headaches, seizure disorders and epilepsy.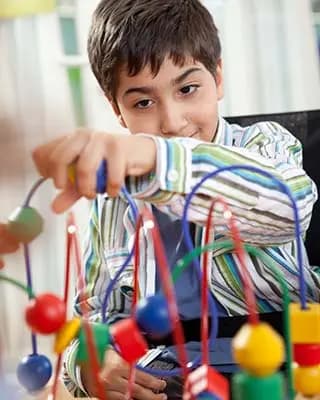 Conditions Treated
A few common conditions treated include:
Dizziness and vertigo

Developmental delays

Congenital birth defects

Epilepsy and seizure disorders

Headaches and migraines

Movement disorders, including essential tremor, dystonia and cerebral palsy

Muscle weakness and/or muscle loss, including muscular dystrophy

Multiple sclerosis

Tourette's syndrome and tics
Treatments & Tests
A few common tests and treatments include:
Treatment plans for neurologic conditions including movement disorders, muscle weakness and pain or weakness from nerve damage

Headache diagnosis and treatments

Pediatric electroencephalograms (EEGs)

Injections for spasticity, or tight or stiff muscles
Our team can review the results of past MRIs and CTs as part of your child's care plan and for further treatment recommendations. At this time, we are unable to perform nerve conduction studies (NCS) or electromyography (EMG).
Our Providers
Our team includes fellowship-trained neurology, neuro-critical care and neurosurgery specialists (fellowship training is additional advanced training in a specific field of study). Because neurological conditions can affect every area of the body, we provide team-based care and treatment plans to help patients recover. This team can also provide extra support for your child's health needs, including behavioral health services.
PMG Provider Directory
CLINICS & FACILITIES
Pediatric Neurology in Albuquerque at Presbyterian Hospital
Related Services / Programs
Neurosurgery Neurology Pediatric Inpatient Services Pediatrics Primary Care Surgery