Supporting Community Health in New Mexico
Presbyterian Healthcare Services envisions a healthy New Mexico, and we exist to improve the health of the patients, members and communities we serve.
This means a commitment to improving access to health care, behavioral health, health insurance coverage, community supports, healthy food, and opportunities for exercise, and supporting everyone to have the opportunity for good health and well-being in the Land of Enchantment.
Building Conditions to Thrive: Three Core Priorities in All Counties
In alignment with the health needs of each community we serve, Presbyterian is focusing on three core priorities that help build conditions to thrive: Behavioral Health, Social Determinants of Health, and Physical Health.
Learn more about our priorities
2023-2025 Community Health Assessments and Implementation Plans

Behavioral Health
The Behavioral Health priority area includes mental and psychological health care, mental wellbeing, and substance use. This distinction allows us to address the complex and multi-faceted topics within this area including stigma, overdose, substance use, access to treatment, social supports, and mental health inequities.

Social Health
The Social Health priority area is aligned with the Healthy People 2030 definition of social determinants of health, which is defined as: the conditions in the environments where people are born, live, learn, work, play, worship, and age that affect health, functioning, and quality of life outcomes and risks. This priority area comprises health-related determinants including economic stability, housing, food access, transportation, safety/interpersonal violence, and environmental health.

Physical Health
The Physical Health priority area includes chronic conditions and factors that contribute to the development of chronic conditions in addition to other factors that influence our physical health. Some key examples of this priority area include diabetes, hypertension, vaccination for flu, COVID, and pneumonia, healthy eating, and active living.
Initiatives include growing capacity to meet demand for healthcare services and innovating the way we deliver care to enhance connection to appropriate assistance including behavioral health, chronic disease management, and social supports. Specific areas of focus include expansion of the population health workforce, stigma reduction education and training, the Equity of Care initiative, and health literacy.
These three priority areas are examined and will be implemented using the following lenses: Access and Equity.
Health equity is at the core of all our strategies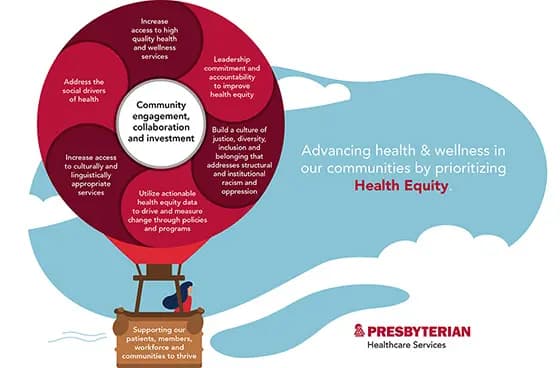 In 2019, Presbyterian embarked on a formalized journey to address health equity in our communities and for our patients and members. To achieve health equity, we seek to understand how our patients experience health inequities due to structural and social determinants of health (SDOH). We strive to remove barriers for individuals as we simultaneously seek big-picture, systemic change. This work is carried out across the system and through interdisciplinary, enterprise-wide committees, including the Health Equity, LGBTQ+, and Perinatal Health Equity Committees.
Learn More about Presbyterian's Commitment to Health Equity
---
Resources and Programs
Presbyterian patients, members and the community have access to programs that help support access to healthy food, fitness and cooking classes, healthcare services and more.
---
Community Health Resource Center
The Presbyterian Community Health Resource Center is a hub for various programs and resources to help support social needs in the Albuquerque community.
---
Assessments and Reports
In support of its mission and as part of the Patient Protection and Affordable Care Act, Presbyterian Community Health prepares reports for planning, implementing and assessing community health initiatives, as well as shares reports and assessments of organizations with whom we partner.