The DAISY Award for Extraordinary Nurses
​Have you received exceptional patient care from a Presbyterian nurse at one of our Albuquerque area hospitals or area doctor's office? Nominating them for The DAISY Award For Extraordinary Nurses is a wonderful way to say thank you. The award, which honors nurses for the profound difference they make in the lives of patients and their families, is presented four times a year.
Nomination deadlines are March 31, June 30, September 30 and December 31. (Presentations will be held in the middle of the following month.) To nominate a deserving nurse, please complete the online nomination form.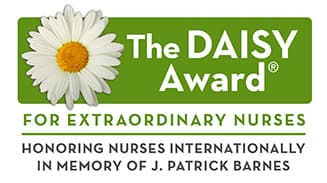 Nominate a Nurse:
FROM A HOSPITAL
FROM A DOCTOR'S OFFICE