Neuroscience
Presbyterian Neuroscience provides specialized care for patients who need treatment for neurological, neuromuscular and neurovascular diseases or injuries. The team of doctors who treat these conditions include neurologists, neurohospitalists, neurointerventionalists, neurosurgeons and neuroradiologists. Neuroscience treats conditions of the brain, spinal cord, and supporting nerves and blood vessels, including headaches, seizure disorders and strokes.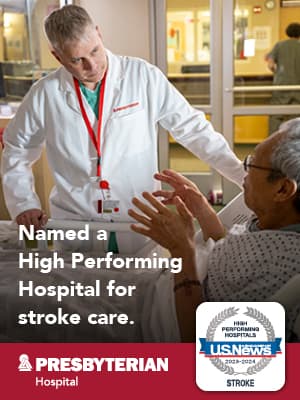 What is the difference between a neurologist and a neurosurgeon?
Both neurologists and neurosurgeons diagnose, manage and treat conditions that affect the brain and spinal cord, but neurosurgeons are also trained to perform different types of surgeries to help provide further treatment options for patients. Working together as a team, these specialists can include testing, laboratory and imaging studies, and a variety of medical and surgical treatment plans for their patients.
What are signs of a stroke?
A stroke happens with a part of the brain loses blood flow to it. Sometimes this is caused when a blood vessel bursts. Sometimes it is caused by a blood clot.
Call 911 immediately if someone is experiencing:
Balance problems

Face drooping

Problems with their speech, like slurred words

Weakness in the arms or legs
Our accredited stroke center team will evaluate you in the emergency department to determine what type of stroke you are having, stabilize and treat you. An examination, testing, and treatment with medications or possible emergency procedures will make sure you receive the most up-to-date and effective therapy for your stroke. These might include blood tests, CT or MRI scans, ultrasounds or angiograms. Working together, our team members can provide you the services necessary to get an accurate diagnosis and treatment plan.
Services / Programs