Neurosurgery
The neurosurgery specialty is concerned with the operative and non-operative management of the nervous systems, as well as the related support structures and blood supply. This includes the brain, spinal cord, peripheral nerves, and extra-cranial cerebrovascular system. Neurosurgeons specialize in the treatment of spinal conditions, head/brain tumors, and malformations.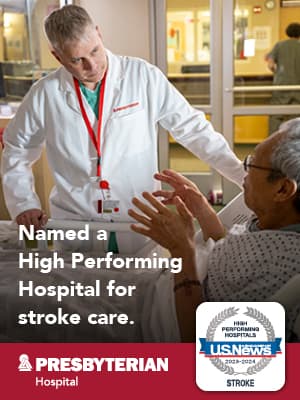 Conditions Treated
A few common conditions treated include:
Bleeding problems such as aneurysms, embolism or thrombosis

Brain or skull base tumors, benign or malignant

Cerebral aneurysm, or a weak area of a blood vessel in the brain

Cerebral embolism and cerebral thrombosis

Spine and/or spinal cord injuries, and spinal stenosis

Stroke diagnosis and treatment in our accredited stroke center
Testing & Treatment Options
A few common tests and treatments include:
Aneurysm and AVM treatment

Carotid angioplasty and stenting

Cervical and lumbar disc replacement

Emergency surgery for traumatic brain injuries

Fusion of cervical, thoracic and lumbar spine

Intracranial angioplasty and stenting

Large-vessel thrombectomy

Microvascular decompression

Tumor particle or coil embolization to reduce or cut off blood supply to tumors or abnormal growths

Stroke diagnosis, management and treatment for ischemic stroke and hemorrhagic stroke

Surgery for brain tumors and skull base tumors

Vertebral artery angioplasty and stenting
Our Providers
Our team includes fellowship-trained neurology, neuro-critical care and neurosurgery specialists (fellowship training is additional advanced training in a specific field of study). Because neurological conditions can affect every area of the body, we provide team-based care and treatment plans to help patients recover. Find a provider to help guide your healthcare journey.
PMG Provider Directory
CLINICS & FACILITIES
Neurosurgery in Albuquerque at Presbyterian Hospital Neurosurgery at Santa Fe Medical Center
Related Services / Programs