Breast Surgical Oncology
Presbyterian Cancer Care provides inpatient and outpatient services for patients with benign and malignant breast disease. Working with your cancer care team, our breast surgical oncologists perform a wide variety of surgeries, and have fellowship training in minimally invasive techniques, including nipple and skin-sparing mastectomies.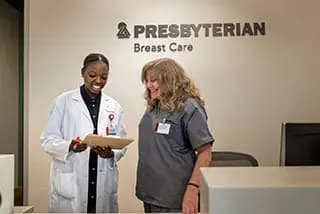 Patient cases may be reviewed at weekly multidisciplinary tumor board meetings that are attended by breast surgical oncologists, medical oncologists, radiation oncologists, pathologists, radiologists, as well as multiple other team members. Our support staff team members include nurse navigators, social workers, psychiatrists, nutritionists, palliative care specialists, physical and occupational therapists, and financial advocates.
Conditions Treated
A few common conditions treated include:
Atypical ductal hyperplasia (ADH)

Atypical lobular hyperplasia (ALH)

Axillary lymph node dissection

Breast cancer

Complex sclerosing lesions

Diagnostic breast biopsies

Facilitation of patient enrollment in clinical trials

Fibroadenoma

Fibroepithelial lesions

Granular cell tumors

Hamartomas

High-risk breast disease management

Lymph node biopsy

Papilloma

Prophylactic mastectomies for patients with a high lifetime risk of breast cancer

Sentinel lymph node assessments

Surgical biopsies for benign disease and diagnosis
Testing & Treatment Options
A few common tests and treatments include:
Breast biopsies, diagnostic and surgical

Breast reconstruction surgery

Coordinated treatment plans for benign and malignant breast disease diagnoses

Lymph node biopsies

Lumpectomies

Mastectomies
Our Providers
Our breast surgical oncology team provides inpatient and outpatient services, while working with a strong team of support staff to give you a wide range of diagnostic, treatment and advocate services.
PMG Specialists
CLINICS & FACILITIES
Breast Surgical Oncology in Rio Rancho at Rust Medical Center Breast Surgical Oncology in Albuquerque at Kaseman Hospital
Related Services / Programs
Breast Care Infusion Services Palliative Care Cancer Care Surgery
---
The Presbyterian cancer program holds the prestigious Outstanding Achievement Award from the Commission on Cancer.