Radiation Oncology
Presbyterian Radiation Oncology offers treatment for a wide variety of cancers. Working together with our medical oncologists, surgeons and other members of your Cancer Care team, we provide patient-centered care to patients in our community.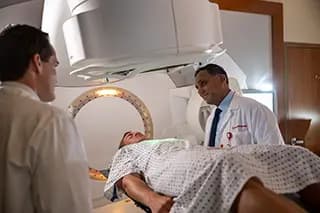 Radiation oncology is a specialty that focuses on the treatment of cancer using radiation to kill cancer cells, get rid of or shrink tumors, and provide relief of cancer-related symptoms. Radiation oncologists prescribe and deliver radiation therapy treatments, work with members of the radiation therapy team to develop treatment plans, and make sure each treatment is administered safely and accurately.
Our equipment includes High Dose Rate (HDR) suites to offer brachytherapy, which is a method of delivering radiation to tumors by placing radioactive sources close to the tumor (called "intracavitary" brachytherapy) or within the tumor itself (called "interstitial" brachytherapy). HDR can reduce treatment times from six to eight weeks of daily external radiation therapy to as little as three to 10 days, depending on the type of cancer being treated. If patients also need chemotherapy, HDR brachytherapy allows them to start that treatment sooner, possibly improving outcomes. Compared to conventional treatments, HDR brachytherapy can cause fewer side effects as well. After treatment, the radiation source is removed from the patient and the patient is no longer radioactive.
Conditions Treated
A few common conditions treated include, but are not limited to:
Head and neck cancer

Breast cancer

Ovarian cancer

Prostate cancer

Cervical cancer

Lung cancer
Testing & Treatment Options
A few common tests and treatments include, but are not limited to:
Brachytherapy, delivered in High Dose Rate (HDR) suites

Intraoperative radiation therapy (IORT)

Stereotactic radiosurgery (SRS)

External beam radiation therapy

3D-CRT (or 3-dimensional conformal radiation therapy)

Image-guided radiation therapy (IGRT)
Our Providers
Our radiation oncology team provides treatment for a variety of cancers, working closely with other members of your Cancer Care team to provide you with a wide variety of diagnostic care, treatment and advocate services.
PMG Specialists
CLINICS & FACILITIES
Presbyterian Radiation Oncology in Albuquerque at Kaseman Hospital Presbyterian Radiation Oncology in Rio Rancho at Ted and Margaret Jorgensen Cancer Center
Related Services / Programs