Gynecologic Oncology
Presbyterian Cancer Care provides inpatient and outpatient services for gynecological cancers, such as ovarian, uterine, cervical and vulvar cancers. Our team has access to advanced imaging modalities including PET scans, CT scans and MRIs, to provide diagnostic information. After diagnosis, working with your cancer care team, our gynecologic oncologists can perform a wide variety of surgeries, including less-invasive robotic and laparoscopic surgeries. This team also administers both intravenous and intraperitoneal chemotherapy, and radiation therapy, with facilities for both inpatient and outpatient treatments. Coordinated care with the Ted and Margaret Jorgensen Cancer Center can provide outpatient infusions as well.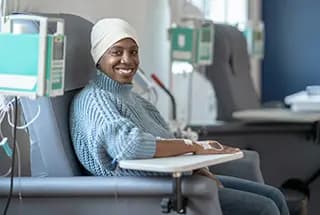 Patient cases may be reviewed at weekly multidisciplinary tumor board meetings that include our breast surgical oncologists, medical oncologists, radiation oncologists, pathologists, radiologists, and support staff. Our support staff includes nurse navigators, social workers, psychiatrists, nutritionists, palliative care specialists, physical and occupational therapists, and financial advocates.
Conditions Treated
A few common conditions treated include:
Cervical cancer

HPV (human papilloma virus)

Ovarian cancer

Uterine cancer

Vaginal cancer

Vulvar cancer
Testing & Treatment Options
A few common tests and treatments include:
Administration of intravenous (IV) and intraperitoneal chemotherapy

Biopsies

Cervical cancer screening

Complex/radical gynecologic and pelvic surgeries

Colposcopy

Diagnosis and treatment of all stages of gynecologic cancers

HPV (human papilloma virus) screening and vaccination

Laser therapy for pre-invasive lesions

LEEP (loop electrosurgical excisional procedure)
Our Providers
Our gynecologic oncology team provides inpatient and outpatient services, while working with a strong team of support staff to provide you with a wide variety of diagnostic care, treatment and advocate services.
PMG Specialists
CLINICS & FACILITIES
Gynecologic Oncology in Rio Rancho at Ted and Margaret Jorgensen Cancer Center
Related Services / Programs
Infusion Services Palliative Care Cancer Care Surgery
---
The Presbyterian cancer program holds the prestigious Outstanding Achievement Award from the Commission on Cancer.