Hematology / Oncology
Presbyterian Medical Group's hematologists/medical oncologists diagnose and treat different types of cancers (oncology) and blood disorders (hematology). Our hematology/medical oncology team provides care for all types of cancers, including breast cancer, colon cancer and lung cancer, as well as hematology care for blood and bone marrow disorders such as iron-deficiency anemia, hemophilia, and sickle cell disease. Infusion treatments, such as chemotherapy, transfusion of blood products, hydration therapy and pain management, are also available at our Cancer Care locations.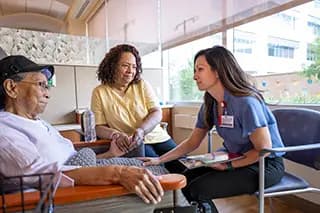 In addition to the Presbyterian Medical Group hematology/medical oncology clinics, Presbyterian Cancer Care provides a wide variety of cancer care services, including diagnostic testing and treatment options for specific diagnoses such as breast cancer at our Breast Care location at Rust Medical Center in Rio Rancho.
Conditions Treated
A few common conditions treated include but are not limited to:
Breast cancer

Colon cancer

Lung cancer

Prostate cancer

Iron-deficiency anemia

Hemophilia

Sickle cell disease
Testing & Treatment Options
A few common tests and treatments include but are not limited to:
Administration of chemotherapy for various cancer diagnoses

Immunotherapy treatments

Targeted therapy

Management of symptoms or treatment side effects including transfusions, fluid replacement for dehydration and pain management

Analysis of test results for diagnoses, including CT or MRI scans, biopsy reports, ultrasounds and lab tests
PMG Specialists
CLINICS & FACILITIES
Hematology / Oncology in Rio Rancho at Ted and Margaret Jorgensen Cancer Center Hematology / Oncology in Albuquerque at Kaseman Hospital Hematology / Oncology in Ruidoso at Lincoln County Medical Center
Related Services / Programs
Cancer Care Surgery Palliative Care
---
Presbyterian Cancer Care services located in Albuquerque and Rio Rancho holds the prestigious Outstanding Achievement Award from the Commission on Cancer.