Surgical Oncology
Surgical oncologists provide surgical treatment for a wide range of cancers. These can include cancers involving the gastric, liver, bile duct, pancreatic, colorectal and skin systems, as well as sarcomas. You might need surgery to diagnose or remove a tumor, or to help ease symptoms caused by the cancer (palliative surgery). These doctors may also do a second surgery to reconstruct a body part that has been affected by a previous surgery, such as breast reconstruction. Presbyterian Cancer Care provides inpatient and outpatient services for patients with all types of cancers, and our surgeons are an important part of our team approach to treatment.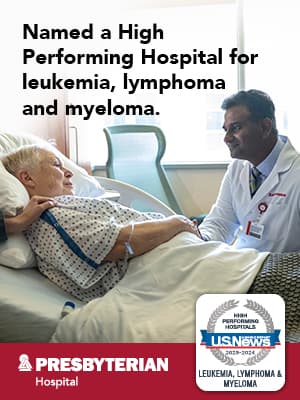 Patient cases may be reviewed at weekly multidisciplinary tumor board meetings that include breast surgical oncologists, medical oncologists, radiation oncologists, pathologists, radiologists, and support staff. Our support staff includes nurse navigators, social workers, psychiatrists, nutritionists, palliative care specialists, physical and occupational therapists, and financial advocates.
Conditions Treated
A few common conditions treated include:
Breast cancer

Colorectal or gastrointestinal cancers

Endocrine and thyroid cancers

Head and neck cancers

Lung and esophageal cancer

Ovarian cancer

Prostate cancer

Sarcomas

Skin cancer and melanoma

Uterine cancer
Testing & Treatment Options
A few common tests and treatments include:
Biopsies

Breast reconstruction

Colostomy and reversal of colostomy

Hysterectomy

Lung surgeries, including lobectomy, wedge resection or pneumonectomy

Mastectomies

Melanoma excision

Oophorectomy (removal of the ovaries)

Prostatectomy

Transurethral resection of the prostate (TURP)

Tumor debulking and removal
Our Providers
Our surgical oncology team provides inpatient and outpatient services, while working with a strong team of support staff to provide you a wide variety of diagnostic care, treatment and advocate services.
PMG Provider Directory
CLINICS & FACILITIES
General Surgery in Albuquerque at Presbyterian Hospital General Surgery in Albuquerque at Kaseman Hospital General Surgery in Rio Rancho at Rust Medical Center
Related Services / Programs
Infusion Services Palliative Care Cancer Care Surgery
The Presbyterian cancer program holds the prestigious Outstanding Achievement Award from the Commission on Cancer.