Colon & Rectal Surgery
Presbyterian Medical Group's colon and rectal surgeons, often called colorectal surgeons, provide care for problems related to the lower intestinal tract, including the colon and rectum. These surgeons have general surgery training with a specific focus on treating disorders and diseases of the lower intestinal tract. They can care for problems such as colon or rectal polyps, hemorrhoids, and inflammatory bowel disease.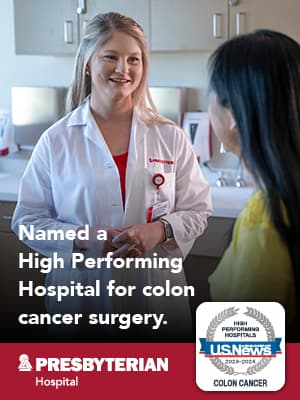 Conditions Treated
A few common conditions treated include:
Colon and rectal polyps/cancer

Inflammatory bowel conditions, such as ulcerative colitis and Crohn's disease

Diverticular disease

Hemorrhoids

Anorectal problems, such as fissures, condyloma, and fistulas

Constipation and fecal incontinence

Pelvic floor disorders, such as rectocele or obstructive defecation

Rectal prolapse
Testing & Treatment Options
A few common tests and treatments include:
Appendectomy

Colectomy

Colonoscopy

Colostomy

Fissure repair

Fistula repair

Ileal pouch anal anastomosis surgery (J-Pouch)

Minimally invasive laparoscopic and robotic intestinal surgery

Polyp removal

Rectal prolapse repair

Transanal hemorrhoidal dearterialization
Our Providers
Our colon and rectal surgeons are part of our larger general surgery team. They can provide pre-operative diagnostic services, inpatient surgical services, as well as outpatient and follow-up services for a wide variety of diagnoses affecting the lower intestinal tract. Our team use minimally-invasive laparoscopic or robotic-controlled techniques when possible, which can lead to shorter hospital stays and faster recovery times after surgery.
PMG Provider Directory
CLINICS & FACILITIES
Colon and Rectal Surgery at Presbyterian Espanola Hospital Colon and Rectal Surgery in Albuquerque at Presbyterian Hospital Colon and Rectal Surgery at Santa Fe Medical Center
Related Services / Programs
Gastroenterology Gastroenterology Lab General Surgery Surgery