Gastroenterology
Gastroenterology is a specialty that focuses on the digestive system, including disorders and conditions affecting the gastrointestinal tract. The esophagus, stomach, small and large intestines, rectum, liver, and pancreas are all parts of the digestive system our specialists treat. Gastroenterologists can perform endoscopies, which use a specialized instrument to visualize the gastrointestinal tract, and allows them to see and identify problems, as well as take biopsies to help make a diagnosis. Depending on what type of treatment you need, Presbyterian's gastroenterologists can coordinate care with your primary provider, as well as other specialists such as general surgeons or oncologists.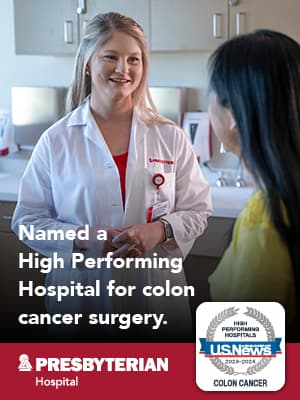 Services / Conditions Treated
A few of the common conditions we treat include:
Colon polyps

Colon cancer

Celiac disease (gluten sensitivity)

Hepatitis

Gastroesophageal reflux disease (also called GERD or heartburn)

Gallbladder disease

Irritable bowel syndrome (IBS)

Inflammatory bowel disease, including Crohn's disease and ulcerative colitis

Pancreatitis

Biliary disorders

Cancers of the intestines and liver

Stomach ulcers

Barrett's esophagus

Diverticulitis and diverticulosis

Chronic constipation or diarrhea
Treatments / Tests Performed
A few of the treatments or tests we provide include:
Upper GI endoscopy

Endoscopic retrograde cholangiopancreatography (ERCP)

Colonoscopy

Flexible sigmoidoscopy

Liver biopsy

PEG tube (feeding tube) placement

Capsule endoscopy
If you are a patient scheduled for an endoscopic procedure at Presbyterian Hospital, Presbyterian Kaseman Hospital, Presbyterian Rust Medical Center, or Plains Regional Medical Center, please find more information on your procedure prep below. For other locations, please ask your provider or call the office for procedure prep instructions.
Preparing for Your Procedure
Our Providers
Our gastroenterologists can help identify and treat different types of digestive system diseases. These include problems of the esophagus, small and lower intestines, liver and pancreas. Our providers can perform diagnostic endoscopies and screenings, and coordinate care for your treatment needs.
PMG Specialists
CLINICS & FACILITIES
Gastroenterology in Albuquerque on Lead Ave Gastroenterology in Rio Rancho at Rust Medical Center Outpatient Gastroenterology Lab in Albuquerque on Cedar St Outpatient Gastroenterology Lab in Rio Rancho at Rust Medical Center Gastroenterology in Clovis at Plains Regional Medical Center Gastroenterology at Santa Fe Medical Center
Related Services / Programs