Podiatry
Presbyterian Medical Group's podiatrists (or foot and ankle specialists) can provide care for problems related to the feet, toes and ankles. Our providers receive specialized training to help treat a wide variety of conditions that affect both the bones and soft tissues of these areas. Treatment plans may include foot surgery or nonsurgical options, depending on your specific diagnosis.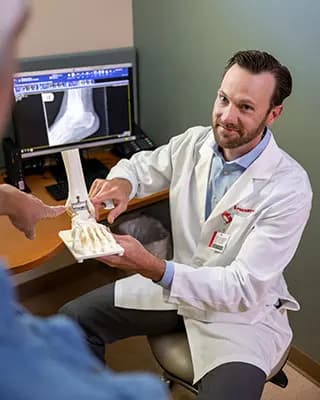 Conditions Treated
A few common conditions treated include:
Ankle instability

Bunions

Dislocations

Hammertoes

Heel, foot and ankle pain

Ingrown toenails

Morton's neuroma

Plantar fasciitis

Sports injuries

Trauma to the foot or ankle, including injuries, fractures and sprains
Testing & Treatment Options
A few common tests and treatments include:
Bone spur removal

Bunion removal

Callus and skin debridement

Cortisone (steroid) injections

Hammertoe correction

Orthotics

Sensory testing for diabetic neuropathy

Surgical repair of various diagnoses

Total ankle joint replacements
Our Providers
Our podiatrists can provide various diagnostic services, including x-rays or ultrasounds, and can perform inpatient as well as outpatient surgical services and treatment for a wide variety of diagnoses affecting the feet and ankles.
PMG Specialists
CLINICS & FACILITIES
Podiatry in Albuquerque at Kaseman Hospital Podiatry in Rio Rancho at Rust Medical Center Podiatry at Presbyterian Espanola Hospital Podiatry at Socorro General Hospital Podiatry in Albuquerque on Pan American Fwy
Related Services / Programs