Rheumatology
The rheumatology specialty provides diagnosis and treatment for diseases that affect the joints, muscles, tendons, ligaments, bone, and connective tissues in the body. These diseases include various types of autoimmune diseases and joint disorders, especially different types of arthritis.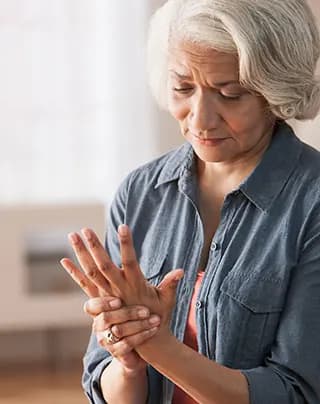 Services / Conditions Treated
A few of the common conditions we treat include:
Rheumatoid arthritis

Psoriatic arthritis

Gout

Vasculitis

Lupus erythematosus

Sjogren's syndrome

Systemic sclerosis

Scleroderma

Polymyositis

Vasculitis

Fibromyalgia

Myositis

Noninflammatory degenerative joint disease

Paget's disease

Ankylosing spondylitis

Reiter's syndrome

Juvenile arthritis

Sarcoidosis

Osteoporosis

Autoimmune disorders in cancer patients and patients who are pregnant
Treatments / Tests Performed
A few of the treatments or tests we provide include:
Joint and tendon injections

Medication treatment plans

Joint aspirations

Screening and laboratory test recommendations
Our Providers
Our rheumatologists can help identify and treat different types of autoimmune and joint diseases. As many rheumatologic diseases can affect multiple parts of the body, our specialists work closely with your other healthcare providers to provide a wide variety of diagnostic and treatment plans for your individual needs.
PMG Specialists
CLINICS & FACILITIES
Rheumatology in Rio Rancho on High Resort Blvd Rheumatology in Albuquerque at Kaseman Hospital Rheumatology in Santa Fe on St. Michael's Dr