Dental
Presbyterian's dental providers focus on the diagnosis, prevention and treatment of problems of the teeth and mouth. We can perform a wide variety of services, from regular check-ups and teeth cleaning, to more extensive procedures including tooth extraction or fillings for patients of all ages.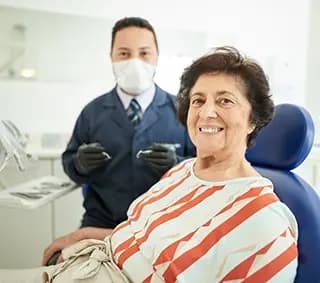 Services / Conditions Treated
A few of the common conditions we treat include:
Tooth pain

Tooth cavities

Bleeding gums

Oral cancer screening
Treatments / Tests Performed
A few of the treatments or tests we provide include:
Teeth cleaning

Dental x-rays

Root canals

Tooth extractions

Cavity fillings

Crowns and bridges

Full or partial dentures
Our Providers
Our dental providers can help identify and treat different types of tooth or gum-related dental problems. We can perform routine twice-a-year cleanings and check-ups, as well as provide more extensive services such as tooth extractions, fillings, crowns and bridges, or dentures.
PMG Provider Directory
CLINICS & FACILITIES
Dental at Carrizozo Healthcare Center on E Ave
Related Services / Programs