Healthcare at Home
Presbyterian Healthcare at Home includes all of our care services for patients who either need or are more comfortable receiving care at their home. These services include hospice care, palliative care, respite care, as well as our Hospital at Home services. Our team works closely with the patient's healthcare provider to monitor your progress and health concerns.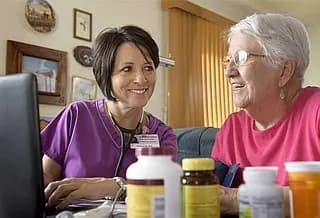 What types of conditions can be treated with home healthcare?
Healthcare at Home can provide education on medications, disease management and chronic illnesses. We can provide wound care for chronic wounds, pressure injuries and surgical wounds. We offer physical, speech, and occupational therapies to improve mobility, self-care tasks and speech and language skills.
What is the difference between hospice and palliative care?
The goal of hospice is to provide care in the most comfortable place for a patient with end-of-life needs. This may be in their home or as an inpatient in the hospital. Palliative care is designed to help relieve chronic pain, and the symptoms and stress of chronic or serious life-limiting illnesses. Our team can also provide palliative or hospice care for patients who can coordinate with your social worker and other healthcare providers to create a treatment plan based on your specific diagnosis and treatment goals.
What is palliative care?
Palliative care is specialized medical care that provides relief from the symptoms, pain, and stress of a chronic or serious illness. Palliative care can provide extra support to you and your family – no matter what your diagnosis is.
Who can receive palliative care?
Palliative care can be provided to you regardless of how old you are, or what stage your illness is. You can still receive medical care and curative treatments for your illness. The goal of palliative care is to focus on your comfort and quality of life.
Palliative care might be right for you if you have a serious illness such as:
Cancer

Congestive heart failure

Kidney failure

Lung disease (such as chronic obstructive pulmonary disease or COPD, or emphysema)

Liver failure

Dementia
Why should I choose Presbyterian for palliative care?
Presbyterian is one of only nine Palliative Care Leadership Centers in the US. This means that Presbyterian has met the highest standards of clinical excellence, as well as outstanding leadership, reputation and experience qualifications.
Our interdisciplinary palliative care team is available if you need help with any of the following:
Managing your chronic disease symptoms

Understanding your treatment and care options

Coordinating your care after you are home from the hospital

Transitioning to another level of care, if you need it, including Healthcare at Home or Hospice

Planning for end-of-life care, including completing advanced healthcare directives

Managing your emotional and spiritual needs
What is respite care?
Respite care can provide support or a short break for family and caregivers of a patient with chronic or long-term illness. Patients in hospice care are eligible for five days of respite care every 30 days. Respite care is available through our hospice community partners and can also be provided at various nursing centers in the Albuquerque and Rio Rancho metro areas.
Do I qualify for Healthcare at Home?
If you are unsure if your condition qualifies for Healthcare at Home services, please discuss further with your healthcare provider. Some conditions may require provider referral in order to receive services. Please call the location that best fits your needs for more information.
Services / Programs
Home Healthcare Hospice Care Palliative Care Hospital at Home