Behavioral Health
Dedicated to improving the health of our community, Behavioral Health at Presbyterian offers the treatment you need for recovery from substance abuse, behavioral health conditions, or psychiatric emergencies.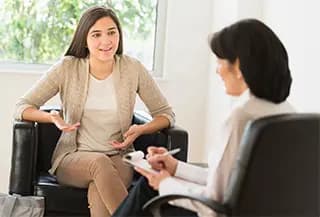 We offer a team approach to care and provide a full range of psychiatric and substance abuse services for children, adolescents, and adults. Our care team includes psychiatrists, psychologists, nurse practitioners, therapists, psychiatric social workers, registered nurses, and behavioral health technicians.
We provide individual and group therapy and medication management services in a variety of settings, including:
Presbyterian Medical Group (PMG) outpatient psychiatric clinics:

Child and Adolescent Behavioral Health

Phone: 505-291-5300

Adult Behavioral Health

Phone: 505-291-5300

Certain Presbyterian Medical Group (PMG) primary care clinic locations. If you are in need of behavioral health services and you are assigned to a provider at one of our clinics, ask your provider about services available onsite or by referral. If you do not have an assigned provider at a Presbyterian Medical Group clinic, please call

1-844-PRES DOC (773-7362), Monday through Friday, 8 a.m. to 5 p.m.
If you are having a medical or behavioral health emergency, please call 911 or go to your nearest emergency department.
Services/Programs
Outpatient Behavioral Health Inpatient Behavioral Health Substance Use Disorder Treatment Primary Care