Inpatient Behavioral Health
Inpatient behavioral health services provides a full list of mental health services in an inpatient (hospital-based) setting. Our team members include psychiatrists, psychologists, registered nurses, behavioral health technicians and specialists, behavioral health social workers and spiritual care providers. Inpatient care is available for child, adolescent, adult and geriatric patients in designated units with private rooms. Our inpatient units provide a welcoming environment, enhanced to compliment treatment approaches and improve safety.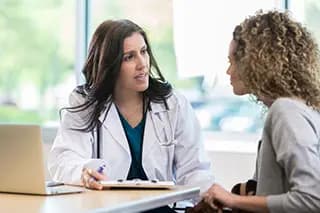 Conditions Treated
Some of the common behavioral health conditions treated include but are not limited to:
Depression

Generalized anxiety disorder

Substance use disorder

Panic attacks

Behavioral health issues

Bipolar disorder
Testing & Treatment Options
A few common tests and treatments include but are not limited to:
Behavioral health assessments and consultations

Substance use treatment and rehabilitation

Crisis intervention

Medication administration and education (if needed)

Comprehensive community support services

Outpatient referral and follow-up with our Presbyterian Medical Group (PMG) behavioral health providers after discharge
VISITING HOURS:
Adult Units: Mon-Fri: 6 pm - 7 pm Sat-Sun: 3 pm - 5 pm
Child and Adolescent Unit: Mon-Fri: 5:30 pm – 6:30 pm Sat-Sun: 3 pm – 5 pm
Visitor policies may be affected by community levels of COVID-19. For the most up-to-date visitor policies, please see our COVID-19 Visitor Policy for this unit. Visitors under the age of 15 are not allowed on the unit. Visitors should arrive 10 minutes before their visiting time and will need to check in with Security. Personal items of visitors are not allowed on the unit and will be stored in a locker in the lobby. All visitors will be screened with a metal detector before being allowed on the unit.
LOCATION:
8300 Constitution Ave NE Albuquerque, NM 87110 Map & Directions
PHONE:
Related Services
Outpatient Behavioral Health Substance Use Disorder Treatment