Emergency Care
If you have a medical emergency, call 911 or go to the closest emergency department. See a list of Presbyterian emergency department locations below.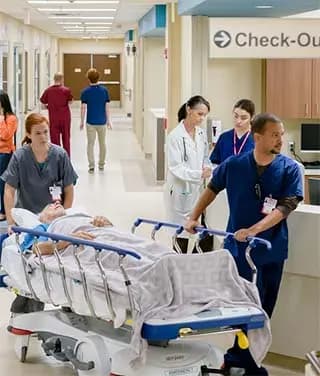 In the emergency department, we diagnose and treat illnesses and injuries that can be life-threatening and require immediate medical attention. Emergency medicine providers have special training to provide advanced life-saving care such as:
Surgical procedures

Trauma resuscitation (restart breathing and heart)

Advanced cardiac life support for problems such as heart attack

Advanced airway management to help you breathe
After treatment, you may need to be admitted to the hospital or you may be sent home and advised to seek follow up care with another provider.
Sometimes you're not sure of the best place to get the care you need. Here are some guidelines to help:
Go to an emergency department for conditions such as:
Chest pain

Any sudden or severe pain

Difficulty breathing

Head injuries

Sudden changes in vision

Difficulty speaking

Sudden confusion or dizziness

Suicidal feelings

Coughing up or throwing up blood

Major broken bones, such as a leg

Severe diarrhea or throwing up

Severe bleeding

Abdominal pain

Active labor
Go to urgent care for conditions such as:
Sprains and strains

Sore throats, coughs, colds or the flu

Ear or sinus infection

Allergy flare-ups

Mild asthma

Minor broken bones, such as a finger

Minor cuts that may need stitches

Nausea
We offer urgent care, pediatric urgent care and 24/7 Urgent and Emergency Care locations in the Albuquerque metro area and in Santa Fe. View our Urgent Care locations
Presbyterian provides emergency care at the following locations:
What should I expect during a visit to the emergency department?
You'll sign in and be asked your name and some basic information. We will ask you about your medical problem. Depending on your specific reason for care, you may have a wait time. The order in which patients are seen is based on how severe their illness or injury is. Staff at the emergency department are unable to provide estimated waiting times.

After you have been registered, you will be called up to the triage area where a nurse or other staff member will take your temperature and other vital signs. You will also be asked some questions about your medical emergency. You will be sent back to the waiting area until you are called for your medical screening exam.

An emergency room provider will perform a medical screening exam to determine what kind of care you need. Your provider will discuss any tests or treatment you might need and will talk to you about whether your condition is a medical emergency.

If your condition is an emergency, you may be treated in the emergency department or admitted to the hospital for further care. In the case of an emergency-level illness or injury, you will be treated and stabilized regardless of your ability to pay. If you do not have insurance, our patient navigators will work with you to help see if you qualify for financial assistance or insurance to pay for your emergency department visit.

If your provider determines your condition is not an emergency, you will meet with an on-site patient navigator who will make an appointment for you to visit a primary care clinic or refer you to urgent care, depending on the type of injury or illness you have.

If you wish to be treated in the emergency department for a non-emergency illness or injury, you must pay for services you receive during your visit. Many insurance plans will not pay for care or services in the emergency department if it is determined the patient's condition is not a medical emergency.

Patient navigators are available to work with you to see if you qualify for financial assistance or a payment plan. These services are available regardless of whether your condition is determined to be a medical emergency or can be treated in another setting.
What are my treatment and payment options?
Are visitors and family allowed in the emergency department?