Urgent Care
When your primary care provider is unable to see you, you can get the care you need through urgent care. We provide help with minor illnesses and injuries such as coughs, flu, ear or sinus infections, fevers, rashes, small cuts, minor broken bones, and joint sprains.
We are not currently accepting appointments for COVID-19 testing for asymptomatic patients. Visit our COVID-19 Resource Center for more information about testing locations.
Most insurance plans are accepted. If you have questions about coverage, payment plans, or financial assistance, please contact your insurance provider.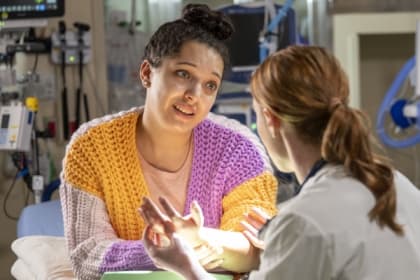 Urgent Care Video Appointments
We provide scheduled urgent care video appointments with a Presbyterian Medical Group care team provider. You must have a MyChart account to use this video care option. If you do not have a MyChart account, you will be prompted to create one. Patients under 18 years of age must have a parent or legal guardian present.
Hours are Monday - Friday, 7:00 am - 6:30 pm; Saturday and Sunday, 7:00 am – 12:00 pm, excluding holidays.
Learn More About Video Appointments
Urgent Care Walk-In and Scheduled Appointments
Our urgent care clinics offer same-day scheduled appointments and walk-in care with Presbyterian Medical Group providers. Walk-ins are accepted when we have availability. We recommend that you schedule your visit so you are confirmed to be seen.
Schedule an Appointment Online Now
If you choose to walk in, please call the clinic first to understand the current wait time and if there is availability. We recommend that walk-in patients visit as early in the day as possible and at least one hour before closing.
When to Go: Urgent Care vs Emergency Room
Sometimes you're not sure of the best place to get the care you need. Here are some guidelines to help:
Go to an urgent care clinic for conditions such as:
Sprains and strains

Sore throats, coughs, colds or the flu

Ear infections, sinus infections

Allergy flare-ups

Mild asthma

Minor broken bones, such as a finger

Minor cuts that may need stitches

Nausea
Go to the emergency room at a hospital for conditions such as:
Chest pain

Any sudden or severe pain

Difficulty breathing

Head injuries

Sudden changes in vision

Difficulty speaking

Sudden confusion or dizziness

Suicidal feelings

Coughing up or throwing up blood

Major broken bones, such as a leg

Severe diarrhea or throwing up

Severe bleeding

Abdominal pain
If you feel that you are having a serious medical emergency, call 911 (or the emergency number for your area) or go to your closest emergency department as soon as possible.
CLINICS & FACILITIES
Urgent Care in Albuquerque on Atrisco Dr Urgent Care in Albuquerque on Harper Dr Urgent Care in Albuquerque on Las Estancias Dr Urgent Care in Belen on S Christopher Rd Urgent Care in Rio Rancho on High Resort Blvd Urgent Care in Santa Fe on St. Michael's Dr Pediatric Urgent Care in Albuquerque on Las Estancias Dr PRESNow 24/7 in Albuquerque on Coors Blvd PRESNow 24/7 in Albuquerque on Paseo Del Norte Blvd PRESNow 24/7 in Albuquerque on Isleta Blvd