Supporting Services
Select a supporting service below to learn more about how Presbyterian can help connect you to the physicians, nurses, providers, centers, clinics, and hospitals you need.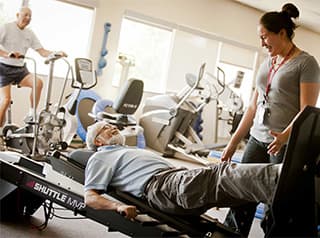 The registered dieticians at Presbyterian Outpatient Nutrition Counseling Services provide nutrition counseling to help treat and prevent disease through dietary change.
Albuquerque Ambulance Service provides Advance Life Support (ALS) paramedic/EMT services to the citizens of metro Albuquerque.
We offer anticoagulation services at some of our Presbyterian Medical Group clinics with individualized treatment and monitoring programs for patients who need to take a medication called Warfarin also known as Coumadin.
Laboratory services are available at locations throughout the state inside many Presbyterian hospitals and Presbyterian Medical Group Clinics, as well as TriCore Reference Laboratory facilities at many outpatient locations. These sites offer full-service lab tests including a variety of blood tests and drug screens as ordered by your provider.
Presbyterian's Pharmacy Services can help you manage your medications and make sure they are taken correctly, as well as provide specialty or sample medications upon request from your provider.
Radiology Services are offered at Presbyterian Hospital, Presbyterian Kaseman Hospital, Presbyterian Rust Medical Center, several other locations in the Albuquerque metro area, and at our regional hospitals across the state.