Outpatient Nutrition Counseling Services
The registered dieticians at Presbyterian Outpatient Nutrition Counseling Services provide nutrition counseling to help treat and prevent disease. Upon referral from your provider, our dieticians can help you understand and follow a customized nutrition plan of foods that meets your needs and matches your lifestyle. We offer video appointments as well as in-person visits to fit your schedule.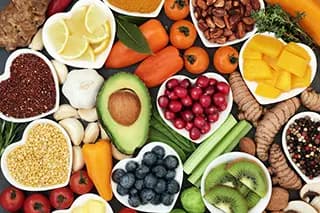 Nutrition counseling is available for patients with medical conditions such as:
Diabetes type 1 or type 2 (not pre-diabetes)

Chronic kidney disease

Obesity with other comorbid conditions
We can also help patients who would benefit from a diet change due to other medical problems including:
High cholesterol

Celiac disease or gluten intolerance

Heart disease

Malnutrition
Patients with pre-diabetes or patients at risk for development diabetes should contact our
at (505) 445-5332 for group classes and dietary coaching.
Nutrition resources for patients are available at:
American Heart Association
National Kidney Foundation
Academy of Nutrition and Dietetics
LOCATIONS
Presbyterian Kaseman Hospital (west entrance)
8300 Constitution NE Albuquerque, NM 87110 Phone: 505-823-8388 Fax: 505-291-2969 For your appointment at Kaseman Outpatient Nutrition Counseling, please park in Parking Lot A and enter the west side of the hospital (Tricore Labs and X-ray), and check in at the waiting area. Please visit the Kaseman Hospital
for more details.
Presbyterian Rust Medical Center
Physician Office Building 2 2400 Unser Blvd SE, Ste 19100 Rio Rancho, NM 87124 Phone: 505-823-8388 Fax: 505-291-2969 For your appointment at Rust Medical Center Outpatient Nutrition Counseling, please enter the Physician Office Building 2 and check in at the GI Lab. Once you are registered, you will continue to the PMG GI Clinic on the next floor for your appointment. Please visit the Rust Medical Center Map and Directions for more information.
RELATED SERVICES