Anticoagulation Services
Anticoagulation services are offered at a variety of Presbyterian Medical Group primary care clinics. These locations provide monitoring of how fast your blood clots in patients taking an anticoagulation (or anti-clotting medicine) such as warfarin (also known as Coumadin). You may be taking this medication for a variety of health conditions, including treating blood clots. Since each patient has unique needs, an individualized treatment and monitoring plan will be created for you. Please ask your Presbyterian Medical Group primary or specialty care provider for a referral for anticoagulation services.
We offer a team approach to care, with an anticoagulation care manager, a pharmacist clinician, and your referring provider working together to provide you with the care you need.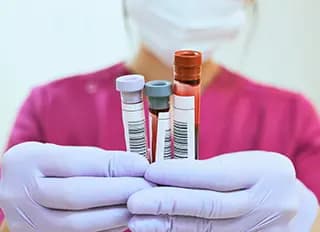 Our anticoagulation services care managers are registered nurses with advanced training in anticoagulation management. They will perform regular international ratio (INR) checks during your visits to measure how fast your blood clots, and can work with your provider to adjust your medication dose as needed.
Treatment Options
Anticoagulation treatment with warfarin or similar anti-clotting medication

INR checks for medication monitoring

Coordination of care with primary and specialty care providers
CLINICS & FACILITIES
Anticoagulation services are available within these PMG primary care and cardiology clinics with a referral from your provider:
Family Medicine in Albuquerque on Atrisco Dr Family Medicine in Albuquerque at Kaseman Hospital Internal Medicine in Albuquerque at Kaseman Hospital Internal Medicine in Albuquerque on Las Estancias Dr Internal Medicine in Albuquerque on Montgomery Blvd Internal Medicine in Albuquerque on San Mateo Blvd Family Medicine in Albuquerque on Pan American Fwy Family Medicine in Albuquerque on Paradise Blvd Family Medicine in Albuquerque on Wyoming Blvd Internal Medicine in Belen on S Christopher Rd Family Medicine in Logan on Gallegos St Family Medicine in Los Lunas on Emilio Lopez Rd Family Medicine in Rio Rancho on High Resort Blvd Internal Medicine in Rio Rancho on High Resort Blvd Family Medicine in Rio Rancho on Hwy 528 Internal Medicine in Ruidoso at Lincoln County Medical Center Family Medicine in Santa Fe on St. Michael's Dr Family Medicine in Tucumcari at Dr. Dan C. Trigg Memorial Hospital
Related Services / Programs