Albuquerque Ambulance Service
If you have a medical emergency, call 911 or go to the closest emergency department.
Albuquerque Ambulance Service (AAS) is the largest and busiest provider of emergency 9-1-1 and non-emergency medical services in New Mexico. AAS provides Advance Life Support (ALS) paramedic/EMT services to the citizens of Albuquerque, the Village of Corrales and Bernalillo County. AAS also provides mutual aid services for the surrounding counties of Valencia, Sandoval, and Santa Fe. AAS provides services to the Albuquerque International Balloon Fiesta, the Albuquerque International Sunport, the Sandia and Manzano Mountains, Kirtland Air Force Base, Sandia National Laboratory, and medical transportation throughout New Mexico.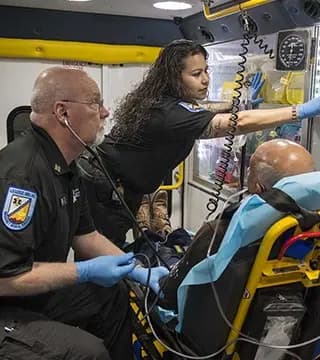 AAS started in 1972 with 10 ambulances and 50 employees, running more than 5,000 calls for service a year out of a small base station on Central Avenue. Today, AAS responds to over 100,000 calls for service a year with a fleet of over 60 ambulances and a staff of more than 300 paramedics, EMTs, and EMDs. At any given time, AAS has between 20 and 50 ambulances deployed to serve the citizens of Bernalillo County. Ambulances are deployed strategically throughout the city and county so that they can efficiently respond to calls for service. Learn more about becoming a member of the Albuquerque Ambulance Services team or what it's like to work for us
All AAS employees are committed to providing continuous improvement in patient care and outcomes through emergency medical services. AAS has been accredited by the Commission for the Accreditation of Ambulance Services (CAAS) since 1994, which holds our organization to the highest operational and clinical standards. In support of our employees and the community, we also provide ongoing community education classes. Find out more about our current class offerings and events
AAS is a nonprofit ambulance service and is a division of Presbyterian Healthcare Services. AAS is accredited by the Commission on Accreditation of Ambulance Services (CAAS). Learn more about the various services we offer and the communities we serve, as well as view our annual Community Report
To schedule non-emergency medical transport (24/7) call 505-761-8200.
Albuquerque Ambulance Service Main Operations Weekdays, 8:00 a.m. – 4:00 p.m. 4500 Montbel Pl., NE Albuquerque, NM 87107 Phone: 505-449-5700 Toll Free: 855-841-7198
Contact On-Duty Supervisor (24/7) Phone: 505-449-5745