Primary Care
Presbyterian Medical Group's primary care providers (PCPs) are the leaders of your care team. They include family medicine, internal medicine and pediatric providers who can care for patients of all ages, from infants to the elderly.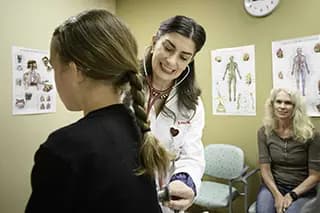 What is primary care medicine? 
Primary care providers (PCP) can diagnose and treat a wide variety of healthcare concerns, including colds or the flu to more complex medical issues. Your primary care provider may be a doctor (MD or DO), a certified nurse practitioner (CNP) or physician assistant (PA). They can provide you and your family with regular check-ups, immunizations, management of complex or chronic health conditions, care for more urgent illnesses and injuries and preventive health advice.. They can also order lab work or other types of tests to help diagnose medical problems and can refer you to a specialty care provider if you need more specialized treatment.
Our primary care providers can also help coordinate a wide range of health services including behavioral health, specialty care, and a variety of supporting care such as nutrition counseling, rehabilitation services and anticoagulation care.
We understand that having flexibility and convenience is important for you and your busy family, so in addition to our primary care clinics throughout the state, we also offer options for same day care, including virtual care options, urgent care clinics, and emergency departments.
Services / Programs