Internal Medicine
Internal medicine is a primary care specialty focused on healthcare needs for adult patients, including the prevention, diagnosis, and treatment of chronic or urgent health concerns. Internal medicine providers are trained to diagnose and treat common and complex medical conditions, as well as provide long-term management of recurrent and chronic medical problems such as asthma, congestive heart failure and diabetes. They act as your advocate and can provide you with regular check-ups, immunizations, help you understand risk factors for your health, care for more urgent illnesses and injuries and offer preventive health advice.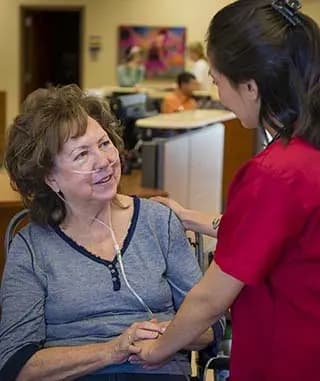 Conditions Treated
A few common conditions treated include but are not limited to:
Respiratory infections, including bronchitis or pneumonia

Diabetes

Hypertension (high blood pressure)

Colds and influenza (flu)

Osteoporosis or bone health

Hypercholesterolemia (high cholesterol)

Behavioral health issues

Allergies and asthma

Geriatric (elderly) health concerns
Testing & Treatment Options
A few common tests and treatments include but are not limited to:
Coordination of care for chronic health problems

Diagnostic testing

Annual health screenings

Vaccinations and immunizations

Preventive health recommendations

Referrals to specialists, as needed
Our Providers
Our internal medicine providers focus on the health and well-being of adult patients. As primary care providers, our internists can diagnose and treat a broad spectrum of health problems, including complex and chronic diseases, as well as provide annual check-ups, health screenings, immunizations and nutrition recommendations.
PMG Provider Directory
CLINICS & FACILITIES
Internal Medicine in Belen on S Christopher Rd Internal Medicine at Presbyterian Espanola Hospital Internal Medicine in Albuquerque on Las Estancias Dr Internal Medicine in Albuquerque at Kaseman Hospital Internal Medicine in Ruidoso at Lincoln County Medical Center Internal Medicine in Albuquerque on Montgomery Blvd Internal Medicine in Clovis at Plains Regional Medical Center Internal Medicine in Albuquerque on San Mateo Blvd Internal Medicine at Socorro General Hospital Internal Medicine in Rio Rancho on High Resort Blvd Internal Medicine in Rio Rancho on Hwy 528 Internal Medicine in Santa Fe on St. Michael's Dr
Related Services / Programs
Behavioral Health Medical Specialties Supporting Services Urgent Care