Breast Care
Presbyterian Breast Care provides screening, diagnosis, treatment and a variety of care options for breast cancer and other non-malignant breast disease, helping patients create a plan and decide what treatment options are best for them. Our multidisciplinary team of radiologists, medical and surgical oncologists, social workers, nurse navigators, and nutritionists work together in one convenient location where patients can access healthcare providers with experience in breast health and screening, cancer surveillance and treatment, genetics, and surgery. Patients with new cancer diagnoses can receive a same-day consultation with a breast radiologist, breast surgeon, medical oncologist, and radiation oncologist, depending on their clinical needs.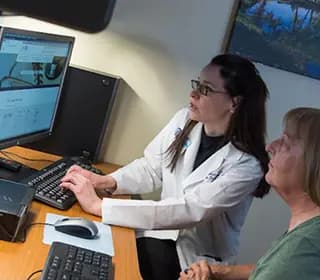 Conditions Treated
A few common conditions patients may be seen for include:
Yearly well-person screening mammography

Family history of breast cancer in more than one member

Family or personal history of breast cancer

Personal history of breast cancer before age 50 or breast cancer in both breasts (bilateral)

Bone density monitoring

Previously identified BRCA mutation

Ashkenazi Jewish heritage or Colonial Hispanic heritage
Testing & Treatment Options
A few common tests and treatments include:
3D screening and diagnostic mammography

Breast biopsies, diagnostic and surgical

Lymph node and sentinel node biopsies

Ultrasounds

Bone density study

Cyst aspiration

Cryoablation for fibroadenomas

Genetic testing, assessment and counseling

Consultations for radiation and/or medical oncology treatments

Supportive care including psychosocial support, dietary/nutrition counseling and survivorship services
Our Providers
Our breast care team provides a team-oriented approach to care with one convenient location for your breast care needs, including screening, diagnosis, treatment and ongoing surveillance care.
PMG Specialists
CLINICS & FACILITIES
Breast Care in Rio Rancho at Rust Medical Center
Related Services / Programs
Hematology/Oncology Radiation Oncology Breast Surgical Oncology Women's Care Radiology Services