Urology
Urology is a specialty that focuses on diseases of the urinary tract including the kidneys, ureters, urethra and bladder, and the male reproductive organs. Though classified as a surgical specialty, urologists have expertise in internal medicine, pediatrics, and gynecology, due to the many different types of clinical problems seen by this specialty.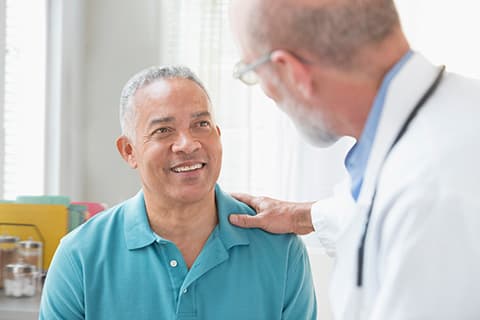 Services / Conditions Treated
A few of the common conditions treated include:
Blood or protein in the urine

Recurrent urinary tract infections (UTIs)

Chronic kidney disease

Kidney stones

Kidney infections

Interstitial nephritis

Polycystic kidney disease

Kidney cancer

Renal artery stenosis

Kidney complications from autoimmune diseases such as lupus, high blood pressure or diabetes

Erectile dysfunction (or ED)

Enlarged prostate gland

Prostate or testicular cancer

Bladder cancer

Pelvic organ prolapse
Treatments / Tests Performed
A few of the treatments or tests we provide include:
Analysis of lab test results from blood and urine tests​

Cystoscopy​

Testicular exam​

Prostate biopsy​

Vasectomy​

Nephrectomy (surgical removal of a kidney) ​
Our Providers
Our urologists can help identify and treat different types of kidney, bladder and urinary tract problems. Some of these include prostate enlargement, recurrent bladder infections, and bladder, prostate or testicular cancer. Our specialists can work together as a team with your other providers to provide a care plan for your healthcare needs.
PMG Specialists
CLINICS & FACILITIES
Urology in Clovis at Plains Regional Medical Center Urology in Albuquerque at Presbyterian Hospital Urology in Rio Rancho at Rust Medical Center Urology at Santa Fe Medical Center
Related Services / Programs