Pain & Spine
Pain and spine specialists focus on acute and chronic pain syndromes, including nerve-based and musculoskeletal-based pain of the neck and spine. Our providers can diagnose and treat different types of problems related to the neck, back and spine. They can also provide a variety of pain management techniques for different types of pain syndromes, including anesthesia-based interventional pain procedures.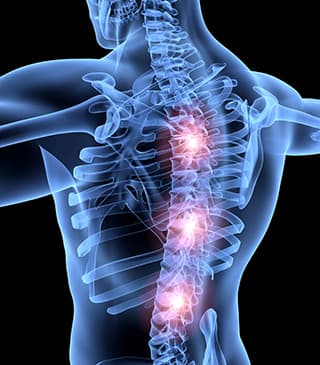 Services / Conditions Treated
A few of the common conditions treated include:
Arthritis / joint pain

Back and neck pain

Spine-related chronic post-op pain

Complex regional pain syndrome (or RSD)

Pain from herniated discs in the spine

Nerve damage and neuropathy, including diabetic neuropathy with spinal cord stimulation

Pain from shingles

Phantom pain

Vertebral compression fractures
Treatments / Tests Performed:
A few of the treatments or tests we provide include:
Physical therapy treatment plan

Nerve block injections

Joint injections for the shoulder, knee or hip

Epidural or spinal injections

Spinal cord stimulator implants

Radiofrequency nerve ablation

Peripheral nerve stimulator implants

Kyphoplasty for fractures of the spine

Facet joint injections

Lumbar sympathetic nerve block
Our Providers
Presbyterian Medical Group pain and spine providers can help identify and treat different types of spine or neck-related problems. We can perform both surgical and medical treatments and recommend long-term pain management solutions for chronic pain, working with other members of your care team for all your treatment needs.
PMG Specialists
CLINICS & FACILITIES
Pain and Spine in Rio Rancho on High Resort Blvd Pain and Spine in Albuquerque at Kaseman Hospital