General Surgery
General surgery focuses on providing surgical treatment for a variety of different illnesses and diagnoses. Services may include both inpatient and outpatient care. Our general surgeons and healthcare team members will care for you before, during and after your surgery. This can include emergency surgery, as well as surgeries that have been planned in advance. General surgeons are trained to perform endoscopic or open surgeries, which create an incision in the skin. Your surgeon will develop a treatment plan for while you are in the hospital for the surgery, as well as once you are discharged home.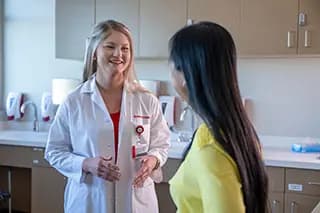 Conditions Treated
A few common conditions treated include:
Appendicitis

Cysts

Feeding tube placement

Gallstones or gallbladder disease

Gastroesophageal reflux disease (GERD)

Hemorrhoids

Hernia

Lipomas

Pancreatitis

Ruptured spleen

Skin cancer such as carcinoma or melanoma
Testing & Treatment Options
A few common tests and treatments include:
Appendectomy

Cholecystectomy (or gallbladder surgery)

Colectomy

Colonoscopies

Colorectal surgery

Endoscopies

Hernia surgery

Hemorrhoidectomy

Hysterectomy
Our Providers
Our general surgery team can provide preoperative diagnostic care, inpatient surgical care, as well as outpatient and follow-up services for a wide variety of diagnoses.
PMG Specialists
CLINICS & FACILITIES
General Surgery at Presbyterian Espanola Hospital General Surgery in Ruidoso at Lincoln County Medical Center General Surgery in Clovis at Plains Regional Medical Center General Surgery in Albuquerque at Presbyterian Hospital General Surgery in Rio Rancho at Rust Medical Center General Surgery at Socorro General Hospital General Surgery at Santa Fe Medical Center
Related Services / Programs