Cancer Rehabilitation
Presbyterian's cancer rehabilitation program offers rehabilitation and support for patients in all phases of cancer treatment. Our team will help create an individualized exercise program to fit your physical abilities and limitations, to help you get the most out of life, feel healthier and improve your chances of long-term survival. The programs can help you decrease fatigue associated with your cancer treatments, increase or maintain your independence and ability to do activities of daily living, and increase tolerance of your cancer treatments, as well as help you improve your swallowing, voice and other possible language difficulties.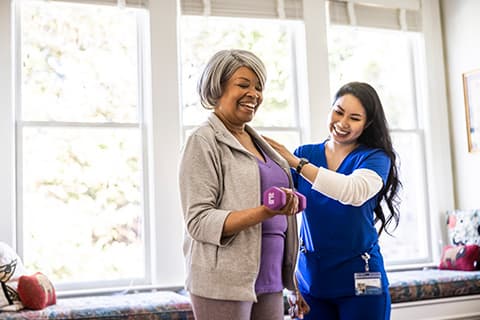 Services / Conditions Treated
Some common conditions treated by our cancer rehab include:
Cancer diagnosis of any type

Lymphedema

Recent surgery for a cancer diagnosis, such as mastectomy, lymph node removal, tumor debulking

Effects of chemotherapy (including neuropathy and joint discomfort)

Effects of radiation therapy (tightness, limited motion, tissue changes, postural changes)
  We have two types of cancer fitness and rehabilitation programs available:
Cancer Rehabilitation
This program is for patients undergoing active cancer treatments such as radiation and chemotherapy, and for patients who have undergone surgery for a cancer diagnosis. The rehabilitation portion of our program (which is usually covered by your health insurance) may include Physical Therapy, Occupational Therapy, Speech Language Therapy, lymphedema therapy with a Certified Lymphedema Therapist, or a combination of therapies. You can self-refer for Physical and Occupational Therapy. You will need a referral from your provider for Speech Therapy.
Treatments/Tests Performed
Some common treatments performed by our cancer therapy team include:
Muscle strengthening

Core conditioning

Flexibility exercises

Lymphedema therapy

Manual Therapy

Education

Balance and Gait training (teaching how to use an assistive device if needed)

Swallowing and Voice training

Cognitive Therapy including memory and attention
THRIVE (Cancer Exercise Program)
The THRIVE wellness exercise program is a 30-visit supervised exercise program for patients during all phases of their cancer treatment. We have a team of cancer-certified exercises specialists to help create an individualized program to increase aerobic function, improve strength and flexibility, as well as stamina and balance. Each patient is closely supervised by our exercise specialists and is monitored carefully during each exercise session by our team. This program requires a doctor's approval for participation and is a self-pay program. Financial assistance may be available if you qualify.
Treatments/Tests Performed
Some common treatments performed by our cancer therapy team include:
Aerobic training

Core conditioning and muscle strengthening

Stretching exercises

Balance training

Yoga for Cancer
CLINICS & FACILITIES
Cancer Rehabilitation in Albuquerque at the Healthplex Cancer Rehabilitation in Albuquerque at Kaseman Hospital Cancer Rehabilitation in Clovis at Plains Regional Medical Center Cancer Rehabilitation in Rio Rancho on Southern Blvd Cancer Rehabilitation at Santa Fe Medical Center
Related Services and Programs
Breast Surgical Oncology Cancer Care General Surgery Gynecologic Oncology Infusion Services Physical Therapy Occupational Therapy Radiology Services Speech Therapy Surgical Oncology