Pulmonary Rehabilitation
Presbyterian's pulmonary rehabilitation program provides individualized rehab and maintenance plans for patients with chronic pulmonary diseases. These include chronic bronchitis, asthma, COPD (chronic obstructive pulmonary disease), pulmonary fibrosis and sleep apnea. Each of our pulmonary rehabilitation locations provide a different mix of services, so be sure to contact the facility closest to you listed below to ask about availability.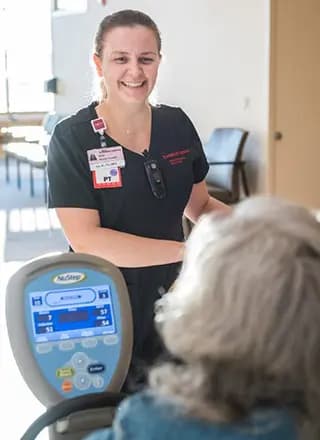 Our team can create a tailored program to help control your symptoms, increase your function, and enhance your overall quality of life. The pulmonary rehabilitation team includes physicians, nurses, exercise specialists and physiologists, a dietician/diabetic educator, a paramedic and respiratory therapists.
We have two types of pulmonary rehabilitation and fitness programs available:
Pulmonary Rehab: This is a physician-referred, medically supervised program for patients who have a lung-related diagnosis, such as emphysema, COPD (chronic obstructive pulmonary disease), asthma, pulmonary fibrosis, or bronchiectasis. Patients who qualify for this program are supervised by a physician as well as nurses, exercise specialists, dieticians and respiratory therapists. The goal is to work on risk modification through education and exercise to improve your lung health and capacity, as well as muscular strength, endurance and flexibility.

Pulmonary Maintenance: This is an ongoing exercise program for patients who have completed their pulmonary rehab program and wish to continue to work toward better lung health. This program is also ideal for patients who have a remote lung-related medical history in the past and are at low risk for problems when exercising.
Services / Conditions Treated
Some common conditions treated by our pulmonary rehab team include:
Asthma

Bronchiectasis

Chronic bronchitis

COPD (chronic obstructive pulmonary disease)

Cystic fibrosis

Emphysema

Pulmonary fibrosis

Sarcoidosis

Shortness of breath (dyspnea)
Treatments/Tests Performed
Some common treatments performed by our pulmonary therapy team may include:
Aerobic training

Core conditioning and muscle strengthening

Diabetic education

Flexibility exercises

Nutrition and diet education

Post-COVID rehabilitation therapy

Stress management and relaxation techniques

Smoking cessation counseling
CLINICS & FACILITIES
Pulmonary Rehabilitation in Albuquerque at the Healthplex Pulmonary Rehabilitation at Presbyterian Espanola Hospital Pulmonary Rehabilitation in Tucumcari at Dr. Dan C. Trigg Memorial Hospital
Related Services and Programs
Cardiac Rehab Fitness Physical Therapy Pulmonology Occupational Therapy