Cardiac Rehabilitation
Presbyterian's cardiac rehabilitation program provides an individualized program for patients with heart and vascular disease. Each of our cardiac rehabilitation locations provide a different mix of services, so be sure to contact the facility closest to you listed below to ask about availability.
Our rehab team members can work closely with you to improve cardiovascular health using exercises that improve your heart-related symptoms and increase aerobic capacity, muscle strength and endurance and flexibility. Patient education can round out the program by helping you understand risk factors, and provide you with assistance in weight loss, stress management, relaxation, and nutrition and diabetic education as needed.
We have two types of cardiac fitness programs available:
Cardiac Rehab: This is a physician-referred program for patients who have had a recent cardiac event or diagnosis, such as a heart attack, heart failure (or CHF), coronary artery bypass grafting (CABG) or stent placement. Patients who qualify for this program are supervised under the direction of a physician, as well as other cardiac rehab team members.

Cardiac Maintenance: This is an ongoing exercise program for patients who have completed their formal cardiac rehab program and wish to continue to work toward better cardiac health. This program is also ideal for patients who have a remote cardiac history in the past and are considered to be at low risk for problems when exercising.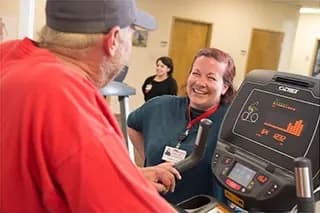 Services / Conditions Treated
Some common conditions treated by our cardiac rehab team include:
Coronary artery bypass grafting (CABG)

Elevated cholesterol (lipid) levels

Heart failure

Status post heart attack

Status post stent placement
Treatments/Tests Performed
Some common treatments performed by our cardiac therapy team may include:
Aerobic training

Core conditioning and muscle strengthening

Diabetic education

Flexibility exercises

Nutrition and diet education

Stress management and relaxation techniques
CLINICS & FACILITIES
Cardiac Rehabilitation in Albuquerque at the Healthplex
Related Services and Programs
Heart and Vascular Physical Therapy Pulmonary Rehab Occupational Therapy