Fitness
Presbyterian's fitness program can provide consultations based on your fitness goals and medical history, as well as instruction and help with fitness equipment. We have a wide variety of classes and amenities to help you achieve your goals. Hours and services vary across our facilities, but include options such as pool exercise, cardiovascular conditioning, strength training, yoga and T'ai Chi, balance, stretching and flexibility exercises. One of our fitness team members will schedule you for an initial consultation, and then work with you to develop a unique exercise plan to suit your individual requirements.
At this time, we are pleased to be able to offer a selection of online fitness and wellness classes through our Community Health program. To find out more about these classes, click here.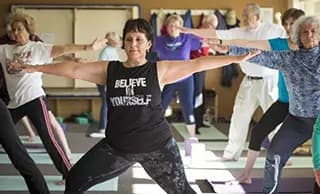 For disease management classes, such as our THRIVE exercise program and Parkinson's (PEP) exercise program, please call the Healthplex at (505) 823-8399 to find out more information about our online disease management classes.
Services / Conditions Treated
Our fitness team can help you work towards specific personal fitness goals, including:
Balance

Flexibility

Increased exercise tolerance and endurance

Muscle toning and stretching

Strength training

Weight loss
Services Available
Some of the available fitness amenities include:
Aerobics, including step and low-impact aerobics

Aquatic (pool) exercise

Balance classes

Cardiovascular equipment, including ellipticals, treadmills, indoor and outdoor walking tracks, rowers, stair-steppers, and stationary bikes

Chair fitness

Parkinson's exercise program (PEP)

Presbyterian Senior Connection, for adults 60 and older

Strength training

Stretch and tone classes

T'ai Chi

THRIVE cancer exercise program

Yoga

Zumba
CLINICS & FACILITIES
Fitness in Albuquerque at the Healthplex Fitness at Presbyterian Espanola Hospital
Related Services and Programs
Aquatic Therapy Physical Therapy Occupational Therapy Presbyterian Senior Connection