Pediatric Gastroenterology
Pediatric gastroenterology is a specialty devoted to disorders of the gastrointestinal (GI) tract and liver in infants, children, adolescents, and young adults. Focus is on a variety of gastroenterological conditions involving organs in the digestive system, including the esophagus, stomach, large bowel, small bowel, liver, gallbladder and pancreas.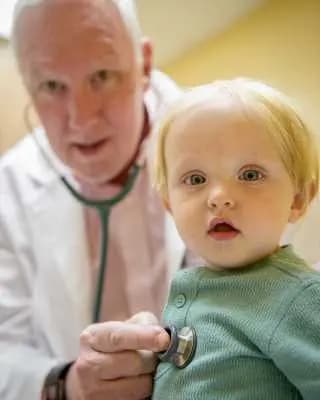 Conditions Treated
A few common conditions treated include:
Celiac disease

Chronic abdominal pain

Crohn's disease

IBS (Irritable Bowel Syndrome)

Failure to thrive

Fatty liver and other liver issues

Reflux
Testing & Treatment Options
A few common tests and treatments include:
Barium swallow

Barium enema

Colonoscopy

Esophageal motility study

Esophagogastroduodenoscopy (EGD)

Flexible sigmoidoscopy

Liver biopsy
Our Providers
Our pediatric gastroenterology specialists can provide a team-based, comprehensive care plan for your child's GI-related diagnoses. Our specialists work closely with your child's primary care provider to create a coordinated care plan in both inpatient and outpatient settings. This team can also provide extra support for your child's health needs, including behavioral health services.
PMG Provider Directory
CLINICS & FACILITIES
Pediatric Gastroenterology in Albuquerque at Presbyterian Hospital
Related Services / Programs