Interventional Cardiology & Electrophysiology
Presbyterian Heart and Vascular Care offers patients with blockages in arteries, heart valve narrowing, heart rhythm disorders, and some congenital heart disorders a variety of diagnostic and interventional services. Our team uses a variety of techniques to diagnose and treat these types of conditions and develop a customized treatment plan for each patient.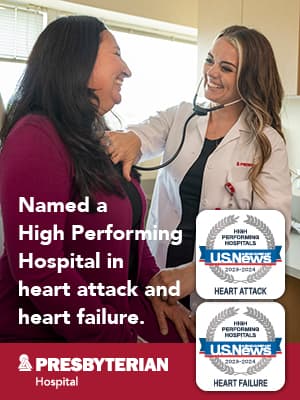 For some patients, we offer a radial lounge for cardiac catheterizations, which is a more comfortable way to recover from this procedure. After the procedure, patients can sit upright in a comfortable recliner chair in a private recovery bay before being discharged home. Our hybrid cardiac catheterization lab can manage most interventions done in a traditional lab setting, as well as being able to support more invasive procedures.
Conditions Treated
Arrhythmias

Atherosclerosis

Atrial fibrillation

Cerebrovascular disease, including strokes and carotid artery disease

Chest pain or angina

Congenital defects

Coronary artery disease

Heart attack

Peripheral artery disease and peripheral vascular disease

Valvular heart disease

Venous disease

Ventricular tachycardia

Wolff-Parkinson-White disease
Testing & Treatment Options
Coronary atherectomy

Alcohol septal ablations

Chronic total occlusions (CTOs)

Balloon angioplasty

Stenting

Rotablation

Atherectomy

Intravascular ultrasound

Flow wiring

Drug-eluting stents

Mitral Valve Clip (MitraClip TM)

Left atrial appendage closure (Watchman)
Our Providers
Presbyterian Heart and Vascular Care's interventional cardiologists are part of our cardiology (or heart doctor) team. They are heart specialists who focus on the diagnosis and treatment of coronary artery disease, vascular disease and acquired structural heart disease. For pediatric interventional cardiologists, congenital heart defects are the major focus of diagnosis and treatment. Our cardiologists use specialized imaging and other diagnostic techniques to examine the heart and its blood vessels, and can use catheter-based procedures to treat certain types of heart problems with a shorter recovery time than traditional open surgical techniques.
PMG Provider Directory
CLINICS & FACILITIES
Interventional Cardiology & Electrophysiology in Albuquerque at Presbyterian Hospital Interventional Cardiology & Electrophysiology in Rio Rancho at Rust Medical Center
Related Services / Programs
Cardiothoracic Surgery Cardiology Vascular Medicine & Surgery